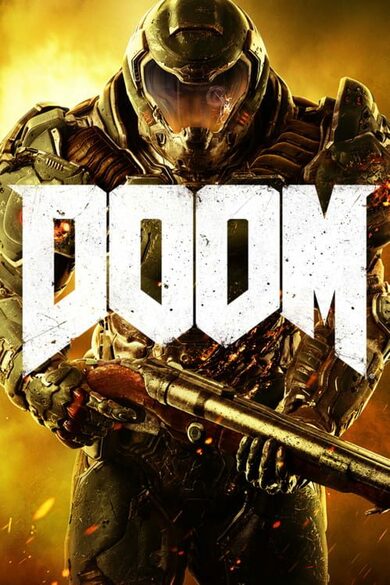 DOOM Steam Key GLOBAL
3 persoane urmăresc acest produs
99.88%

din 50k + evaluări sunt excelente!
GlobalPoate fi activat în

Statele Unite ale Americii

Cheia digitală

Aceasta este o ediție digitală a produsului (CD-KEY)

Livrare instantanee
4

alte oferte
Recenzii: 14
KyuVee

7/26/2020

Traducere automată

Poveste foarte bună, cu o grafică incredibilă.

Keoki

8/3/2020

Traducere automată

Este un joc foarte fain pentru a trece timpul.

Mazapanero

7/30/2020

Traducere automată

Joc bun, la început este un pic confuz, dar cu câteva ore de joc înțelegeți cum funcționează îmbunătățirile

Zero

7/21/2020

Traducere automată

Foarte bun joc, mi-a plăcut mai ales Gore și coloana sonoră

Valainistima

7/19/2020

Traducere automată

Problema cu scrierea recenziilor este că oricum ești influențat de sentimentele tale. Unul va spune că jocul este grozav, celălalt va spune așa,
Doom Steam key
The original Doom is more than 20 years old and back in the day this legendary game basically kickstarted the whole first-person shooter game genre as we know it today. Without Doom, we wouldn't have Call of Duty, Halo, Battlefield or any other great FPS game franchises that were created over the years.
Buy Doom Steam key and experience a modern reimagining of the 1993 classic. The new iteration of Doom was developed by id Software, published by Bethesda and released in 2016. It's not just a shallow graphical reskin of the original. The latest Doom captures the feeling of the 1990s shooters and allows the player to re-experience the glory days of FPS in a fresh new way.
Action-packed gameplay
Most modern games put a lot of effort to be as cinematic as possible, littering the player's mind with an abundance of cutscenes and loads of exposition. Buy Doom Steam key and enjoy a game that consciously avoids bothering you and wasting your time with a convoluted plot in order to create a cool FPS gameplay experience, rarely found in contemporary action games.
Story-wise, the premise of Doom is pretty simple: you are badass space marine who finds himself on a Mars colony overrun by demons that are invading from literal Hell. You have an abundance of weapons at your disposal so get ready for challenging, fast-paced, ridiculously violent (in a good way) gameplay as you chop demons with a freaking chainsaw or beat them to death with their own ripped off limbs!
Classic level design
Buy Doom Steam key to rediscover what it was like to play an old school FPS! Forget sprinting, forget health regeneration, forget 20-minute long exposition and cinematics, forget classes and forget tutorials! Right from the beginning, you're thrown into action with a large arsenal of devastating guns, fountains of blood and consecutive brutal kills with glorious death animations for every enemy type!
Id Software created a game that has something to offer for both the fans of the original and the newcomers to the series. Buy Doom Steam key and enjoy and old school FPS level design with predetermined weapon locations which recreates the game progression feeling common to 1990's games, just like in the old days! Fans of the series will get to see an interesting reimagining of the classic levels as well as enemy types.
Rip and tear in multiplayer!
When you're done slaughtering demons join the multiplayer that offers both cooperative and competitive modes. This includes the well-known horde mode in which you battle abominations from Hell with allies online or you fight in competitive deathmatches against other players in custom made maps. Buy Doom Steam key and get a power-up to become a demonic entity that realizes the deepest nightmares of enemy players as they helplessly run for their lives! Rip and tear!
---
Detaliile jocului
Evaluat 18+ (Matur)

Un singur jucător

Mai multi jucători

Cooperativ

Prima persoană
---
Gen:
Funcționează pe:
Limbi:
Engleză
Franceză
Germană
Italiană
Japoneză
Poloneză
Portuguese-Brazil
Rusă
Spaniolă, Castiliană
Traditional Chinese
---
Data de lansare:
May 13, 2016
---
Cerințe de sistem:
Cerințe Minime de Sistem
Cerințe de sistem: Windows 7 / 8.1 / 10 (64-bit versions)
Procesor: Intel Core i5-2400/AMD FX-8320
Memorie: 8 GB RAM
Grafica: NVIDIA GTX 670 2GB/AMD Radeon HD 7870
Depozitare: 55 GB
Note suplimentare: Requires Steam activation and broadband internet connection for Multiplayer and SnapMap
Cerințe de sistem recomandate
Cerințe de sistem: Windows 7 / 8.1 / 10 (64-bit versions)
Procesor: Intel Core i7-3770/AMD FX-8350
Memorie: 8 GB RAM
Grafica: NVIDIA GTX 970 / AMD Radeon R9 29
Depozitare: 55 GB
Note suplimentare: Requires Steam activation and broadband internet connection for Multiplayer and SnapMap