The Elder Scrolls Online: Summerset (Upgrade DLC) Official website Key GLOBAL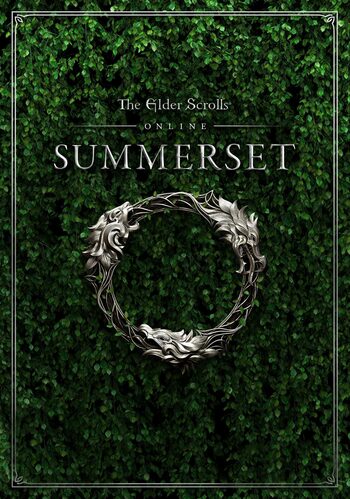 The Elder Scrolls Online: Summerset (Upgrade DLC) Official website Key GLOBAL
Împărtășiți cu cineva căruia i-ar plăcea acest lucru!
Gamerii au văzut de asemenea,
Recenzii: 0
S-ar putea sa-ți placa, de asemenea
Descrierea produsului
The Elder Scrolls Online: Summerset (Upgrade DLC)

The Elder Scrolls Online: Summerset is a new chapter to The Elder Scrolls Online game! A great threat is upon the nourished and sophisticated home of High Elves, explore the Summerset Island's characters, stories, and landmarks. Take on many of its challenges to expand your strengths and knowledge! No matter if you are just beginning your quest, or are the top-tier conquest veteran, the Summerset isle features content fit for every player alike:

•A whole new area to traverse, with glorious landscapes, tropical heavens, cliffsides and vast nourishing forests. The Elvish cities are something breathtaking as well.

•New thrilling narrative expansion that will conclude the story that began in the base ESO game and continued through Clockwork City. Daedric conspiracy once again threatens to destroy Tamriel, the fate of the future once again lies on your shoulders.

•Discover the mystical Psijic Order and learn their secrets to defy time itself. It won't be easy; the Order will test your skill and won't reveal their secrets to just anyone.

•One of the most requested all-new crafting skill line — Jewelry

•New 12-player challenge! Expect it to be one of the most challenging things you've even completed! Cloudrest won't be easy, but it will reward you plenty, to say the least.

•Many new team oriented PVE trials, such as Abyssal Geysers and many more!
Cerințe de sistem
Cerințe Minime de Sistem
Cerințe de sistem

Windows 7 64-bit

Procesor

Intel Core i3 540 or AMD A6-3620

Memorie

3 GB RAM

Grafica

Direct X 11.0 1GB RAM (NVidia GeForce 460 or AMD Radeon 6850)

Depozitare

85 GB
Cerințe de sistem recomandate
Cerințe de sistem

Windows 7 64-bit

Procesor

Intel Core i5 2300 or AMD FX4350

Memorie

8 GB RAM

Grafica

Direct X 11.0 2GB RAM (NVIDIA GeForce GTX 750 or AMD Radeon HD 7850)

Depozitare

85 GB
Alte detalii