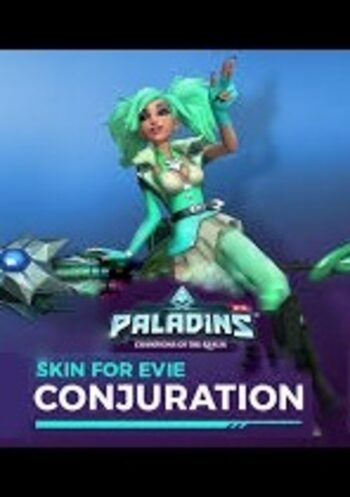 Paladins - Evie Hero + Conjuration Skin Key GLOBAL
Ne pare rău, vândut :(
Vreți acest joc? Vă putem notifica prin e-mail atunci când produsul devine din nou disponibil.
Notificare
Notă importantă:
The base game Paladins is required in order to play. Code is redeemable on in-game store.
Gamerii au văzut de asemenea,
Recenzii: 0
S-ar putea sa-ți placa, de asemenea
Descrierea produsului
Paladins - Evie Hero + Conjuration Skin
Enjoy Paladins? Like Evie? Well, we have a deal for you! Buy Paladins Evie hero + conjuration skin key and flaunt your fashion for all of the Realm to see. As a team-based hero shooter, Paladins may be lacking in terms of customization (especially by the current standards), however, their skin system suitably works to fill in that oh-so-custom void.
Ice witch is here to play
Evie herself is a witty and temperamental ice witch – with a broom to prove it too! And this is your chance to expand her wardrobe with one more item. After all, the bright green outfit will surely intimidate the enemy! And Evie will, in turn, keep up the image of a worthy opponent to all who cross her.
Buy Paladins Evie hero + conjuration skin key and jump right into the action. Utilize Evie's abilities, freeze the enemies and then maybe dance on their graves – whatever inspires you to press forward! (But at least Evie will be dressed for the occasion!)
Do not forget the teamwork
Needless to say, while Evie is a great threat all on her own, working with the team makes the victory so much sweeter. Her ultimate ability even hinges on the all-out assault your teammates can rain on the enemy. She freezes, they conquer, everyone shares the sweet sweet loot! Or, should you prefer, blinking in and out of existence turns Evie into a harassing nightmare. Don on the brand-new vibrant outfit and you can dazzle the enemy even better than Evie's ice!
Cerințe de sistem
Cerințe Minime de Sistem
Cerințe de sistem

Windows 7 64-bit

Procesor

Core 2 Duo 2.4 GHz or Athlon X2 2.7 GHz

Memorie

4 GB RAM

Grafica

Nvidia GeForce 8800 GT

Depozitare

30 GB
Alte detalii
Limbi

Data lansării

8 mai 2018

Editor

Hi-Rez Studios

Dezvoltatori

Evil Mojo Games

Funcționează pe