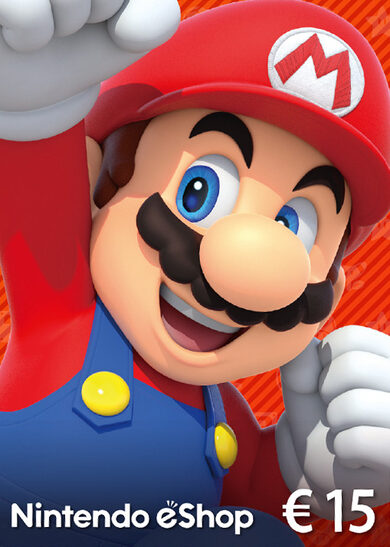 Nintendo eShop Card 15 EUR Key EUROPE
99.91%

din 50k + evaluări sunt excelente!
Nu poate fi activat în Statele Unite ale Americii
Funcționează pe
Notă importantă:
No expiration date. Redeemable for European Nintendo accounts (only € currency).
1

alte oferta
Nintendo eShop Card 15 EUR
Whether you're new to the Nintendo services, or a veteran on the scene, you should without a question know about the Nintendo eShop Card and all the good stuff that comes by purchasing it. Buy the Nintendo eShop Card 15 EUR and enter the Nintendo Store, there's plenty in it to look forward to!
Before you make your purchase, you should also know some intricate details that this Nintendo eShop Card carries. First, every single Card key comes with no expiration date, and that simply means that once it's yours – it's yours forever! Second, the value you receive far outweighs the price you pay. What?! Exactly – simply compare it yourself.
Activate the Nintendo eShop Card 15 EUR key on your Nintendo eShop account, receive the 15 EUR funds in an instant and have them locked and loaded for whenever the perfect opportunity to strike arises. Stay within the easy reach of your funds with no extra reason to use your Credit Card.
Buy the Nintendo eShop Card 15 EUR for yourself, or even better, buy it for your gamer friend or family member! If we know something about gamers, it's that no gamer would frown upon receiving a nifty Gift Card surprise – and that's a fact! Receiving goodies for your work is honorable, gifting them to someone for their worth is just admirable!
If you're amongst the cool cats that own the Wii U, Nintendo 3DS, or Nintendo 3DS XL devices, then this Nintendo eShop Card was made for you! Don't hesitate for any longer, receive the key code and explore the realms of the Nintendo Store.
In order to successfully redeem the received key Code:
•Search for the Nintendo eShop icon on the Home menu
•Select 'Add Funds.', or 'Balance.' option
•Select 'Redeem a Nintendo eShop Card.' feature
•Enter the 16-character activation code and press 'OK.' to complete the activation process
---
Data de lansare:
March 3, 2017
---