McAfee AntiVirus Plus 2020 Unlimited Devices 1 Year McAfee Key GLOBAL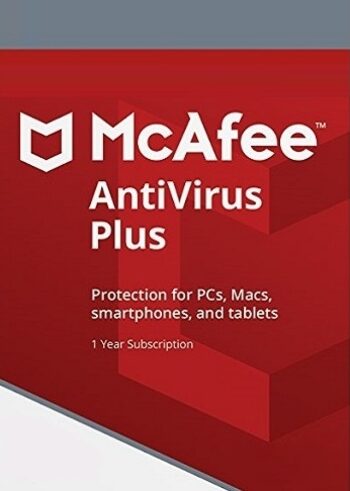 McAfee AntiVirus Plus 2020 Unlimited Devices 1 Year McAfee Key GLOBAL
Împărtășiți cu cineva căruia i-ar plăcea acest lucru!
Notă importantă:
When activating your key, you might see that the origin of the key is different from your region. This does NOT mean that the key is in any way faulty - they can be activated in the region you are in.
Gamerii au văzut de asemenea,
Recenzii: 0
S-ar putea sa-ți placa, de asemenea
Descrierea produsului
McAfee AntiVirus Plus 2020 Unlimited Devices 1 Year McAfee Key
Online protection is a thing that has to be important for every person, who is using the internet. It keeps us safe from various threats appearing online. Furthermore, modern protection ensures that the speed of our computers doesn't get interrupted, so we can enjoy safe and quick browsing anytime, while using online protection, with McAfee AntiVirus Plus 2020 Unlimited Devices 1 Year McAfee Key. They are worldwide leaders in the web protection sphere, focusing on protecting people, rather than devices. Solutions of McAfee antivirus for pc adapt to whatever customer is needing, which lets him experience activities online together with integrated, modern, and easy solutions, that McAfee antivirus key is providing, including total online protection, antivirus, internet security, LifeSafe, and mobile security for your everyday needs.
Features of McAfee products
Take a look at various features that this brand is offering:
• Personalized protection. With McAfee protection, you can be sure that your need to be safe from various online threats will be ensured. But not only that, because with a universal Windows platform security app Personal Protection, that works in Windows 10 S, you will be able to use security, identity, and privacy protection for your life in the digital world. There are two versions of the app: a free version, and a subscription-based version;
• Identity monitoring. When using the McAfee key, you can be sure, that it will monitor your identity in order to protect you from various threats, such as cybercriminals. Furthermore, this feature constantly scans for credit activity and alerts you if something unusual happens;
• Online privacy. With McAfee protection, your privacy while scrolling on the web will also be ensured. Antivirus software detects and removes malware, spyware, and adware and protects your PC in real-time through scheduled scans;
• Device security. This feature protects things like critical data after leaving your company through removable media. It ensures your devices' data security while filtering, monitoring, and blocking confidential data on any removable storage device. Furthermore, it features centralized and simplified security management, that prevents confidential data loss and theft.
Antivirus Plus
Experience even better security and protection with McAfee, while using Antivirus Plus. It provides you with these features:
• Award-winning antivirus. It ensures that your digital life will be safe from ransomware, malware, phishing, and more. The leader in consumer security, McAfee antivirus provides real-time protection. Also, it's easy to use and has a 100% virus protection pledge;
• Firewall. Be safe with the protection of the latest virus, malware, spyware, and ransomware attacks while ensuring your privacy and identity. McAfee antivirus key offers a firewall that provides comprehensive internet security, multi-faceted privacy protection, and secure wi-fi;
• Password manager. It lets you securely store and manage every online password in one place;
• File Shredder. Lets you permanently delete anything on your PC you no longer need;
• Identity monitoring. It keeps your personal info secure. Get ready for 24/7 monitoring of your email addresses and bank accounts, which ensures total security. It's easy to set up and it provides extensive monitoring. Also, McAfee notifies you about suspicious activities 10 months sooner than other services;
• Online security experts. It would be hard to find better service in the field of online security than McAfee. With their products, your internet life will be as safe and secure as possible;
• Web protection. With the McAfee key, every path you take online will be secured and safe. Maintain constant web protection regardless of your location or device. With web protection, you can expect advanced security, prevention of various sophisticated threats, and amazing service, where you can always send information about threats;
• Protection Score. Keep track of your online protection to improve it and stay even safer online. With the protection score, you can check how safe you are online. If there is a risk of malware, you will get a notification and can take immediate action. After dealing with the threat, your protection score will go higher.
• Secure VPN. Get ready for a password manager, that lets you securely store and manage every online password in one place, together with a safe VPN, which lets you browse and do anything online with the utmost security and protection;
• Multi-platform compatibility. McAfee operates not only on your Windows PC. It also provides cross-device protection for your Mac and iOS/Android devices. That means, that with McAfee you can enjoy total security both at home and on the go.
McAfee activation guide
To activate the product follow these steps:
• Go to the official website;
• Enter your 25-digit activation code;
• Log in or create a new account;
• Download activated software.
Alte detalii
Data lansării

1 ianuarie 2019

Editor

McAfee

Dezvoltatori

McAfee