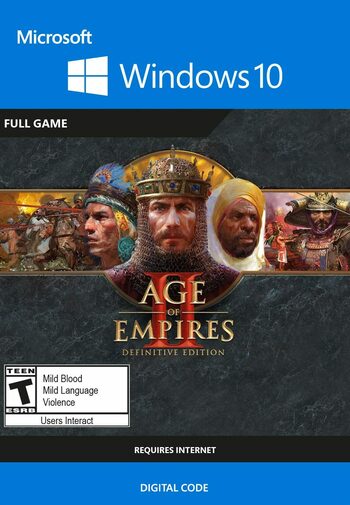 Age of Empires II: Definitive Edition - Windows 10 Store Key GLOBAL
99.87%

din 375k + evaluări sunt excelente!
Notă importantă:
WORKS ONLY ON MICROSOFT PLATFORM. WINDOWS 10 version of the game. Microsoft Key is not compatible with Steam version! Make sure to redeem at: http://account.microsoft.com/billing/redeem.
5

alte oferte
Recenzii: 4
Piteras

4/24/2020

Traducere automată

În ciuda trecerii anilor, este încă un joc de rts grozav și senzațional pe care îl pot recomanda cu încredere oricui caută acest tip de joc. Desigur,

Ieneio

6/19/2020

Traducere automată

Grozav! După 20 de ani de utilizare a jocului și acum în sfârșit cu versiunea Definitive! 5 stele pentru unul dintre cei mai buni RTS.

Age of Empires 2

8/31/2020

Traducere automată

Acest joc a fost copilăria mea și acum, când mă bucur de el în grafica HD, este destul de minunat!

Daniel G.

8/2/2020

Traducere automată

Un clasic și toți cei care l-au jucat trebuie să îl aibă, este o comunitate foarte activă, deci există o mulțime de servere.
Age of Empires II: Definitive Edition Microsoft key
Buy Age of Empires II: Definitive Edition key and experience a real-time strategy game that is definitive for the genre and tested by time. First released on September 13th, 1999 Age of Empires II saw multiple upgrades and expansions through two decades and still maintains an active and passionate community of fans. With the Definitive Edition, new features and tweaks are introduced to the game that will satisfy both long-time fans and curious newcomers to the series.
Pick from multiple campaigns
Not only can this RTS provide the player with hundreds of hours of fun but it's also a historically based educational game. Buy Age of Empires II: Definitive Edition key and begin your campaign by choosing one of the many available civilizations. All of them have real historical analogs and feature unique attributes, abilities, units giving the player munch replay value. Progress through the Dark Age; Feudal Age; Castle Age all the way to the Imperial Age and compare architecture, clothing, military gear of different empires.
New content in the Definitive Edition
The Definitive Edition introduces 3 new campaigns by adding the latest expansion to Age of Empires II titled The Last Khans. These campaigns are Kotyan Khan; Ivaylo and Tamerlane. Once you buy Age of Empires II: Definitive Edition key you'll gain access to 4 new civilizations: Bulgarians, Cumans, Lithuanians and the Tatars. All of these will be available both in the single-player campaign and the competitive multiplayer respectively. On top of that, multiplayer mode now features a matchmaking system in order to provide the most fitting challenge to the player.
Technical upgrades
Age of Empires II: Definitive Edition presents various technical upgrades to the original game. Now the classic RTS can be played with 4K resolution and ultra HD graphics. Buy Age of Empires II: Definitive Edition key and test your strategy skills against the new A.I. that can implement tactics used by the players in competitive multiplayer mode. It can even use sheep as scouts! Enjoy the upgraded interface, ability to zoom in and out with the camera, pursue achievements! Buildings now also have detailed collapse animations! Rediscover the RTS classic with modern new features and the good-old spirit of the 1990s!
---
Detaliile jocului
Evaluat 12+

Un singur jucător

Mai multi jucători

Vederea păsărilor
---
Gen:
Funcționează pe:
Limbi:
Chineză
Coreeană
Engleză
Franceză
Germană
Italiană
Japoneză
Portuguese - Brasil
Rusă
Spaniolă, Castiliană
Turcă
Vietnameză
---
Data de lansare:
November 14, 2019
Dezvoltatori
Forgotten Empires / Tantalus / Wicked Witch
---
Cerințe de sistem:
Cerințe Minime de Sistem
Cerințe de sistem: Windows 10 64bit
Procesor: Intel Core 2 Duo or AMD Athlon 64x2 5600+
Memorie: 4 GB RAM
Grafica: NVIDIA GeForce GT 420 or ATI Radeon HD 6850 or Intel HD Graphics 3000 or better
Depozitare: 30 GB available space
Note suplimentare: Requires a 64-bit processor and operating system
Cerințe de sistem recomandate
Cerințe de sistem: Windows 10 64bit
Procesor: 2.4 Ghz i5 or greater or AMD equivalent
Memorie: 8 GB RAM
Grafica: Nvidia GTX 650 or AMD HD 5850 or better
Depozitare: 30 GB available space
Note suplimentare: Requires a 64-bit processor and operating system