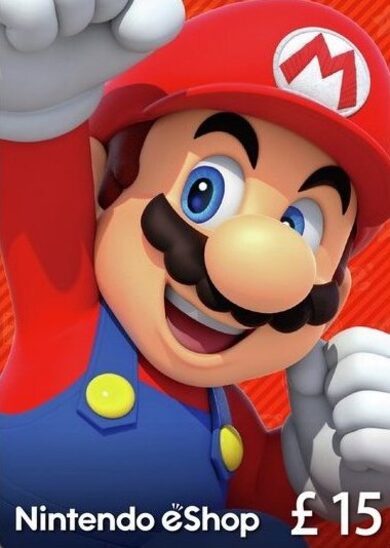 Nintendo eShop Card 15 GBP Key UNITED KINGDOM
99.71%

din 125k + evaluări sunt excelente!
Nu poate fi activat în Statele Unite ale Americii
Funcționează pe
Notă importantă:
No expiration date. Redeemable for UNITED KINGDOM Nintendo accounts (only £ currency).
2

alte oferte
Nintendo eShop Card 15 GBP
If you enjoy Nintendo games but don't want to pull out your credit card every time something catches your eye, buy Nintendo eShop Card 15 GBP UK. This is the ultimate form of convenience for the console players, as it allows easy and quick purchases.
Anytime anywhere
This card has an advantage over some of the others in the field – it has no expiration date. Yes, you heard that right, should you get an eShop card now and want to save it for a later date – maybe there's a game you have been waiting to be released or an expansion that is just around the worker – you can. There's no ticking time clock to validate your card, you may simply buy Nintendo eShop Card 15 GBP UK and keep it in your drawer for a proverbial rainy day.
Fast and reliable
Another thing of note about these cards is that once you use one to buy a game, it will be instantly sent to your device (so be sure to select appropriately) if it's online. So, you can almost see your purchase 'come alive', with no overblown waiting or additional actions. There's also an option to utilize your card in a different way. Maybe you like to be on the go, perhaps you travel and sometimes forget to take all your card with you. Well, when you buy Nintendo eShop Card 15 GBP UK, you can also cash it out – no, not quite literally, but you may enter the code of the card to increase your account's funds. With those funds, you are free to pay for games wherever you are, no matter if you don't have your cards at hand.
Flexible purchase
The eShop card can be both a personal purchase for your own needs, or you may buy it for a friend. Since the same rules apply, you can wrap it up six months or even a year in advance and wait till it's the perfect time to surprise your friend! Buy Nintendo eShop Card 15 GBP UK and it's completely up to you how and when you want to use it!
---
Data de lansare:
March 3, 2017
---