Final Fantasy XIV (Complete Edition 2017) Mog Station Key NORTH AMERICA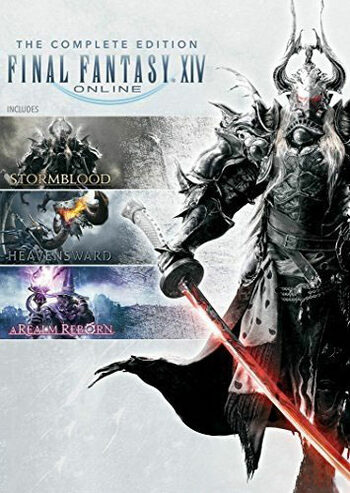 Final Fantasy XIV (Complete Edition 2017) Mog Station Key NORTH AMERICA
Împărtășiți cu cineva căruia i-ar plăcea acest lucru!
Ne pare rău, vândut :(
Vreți acest joc? Vă putem notifica prin e-mail atunci când produsul devine din nou disponibil.
Notificare
America de NordPoate fi activat în

Statele Unite Ale Americii

Cheie digitală

Aceasta este o ediție digitală a produsului (CD-KEY)

Livrare instantanee
Notă importantă:
Does not work with Steam version of the game! Includes 3 Items: FF XIV: A Realm Reborn, FF XIV: Heavensward, FF XIV: Stormblood. Does not include Shadowbringers! To redeem code go to: http://sqex.to/FFXIVRedeemCodeEU and click "Add New Service Account". This product (Complete Edition 2013) can ONLY be activated for Square Enix Mog Station Accounts that do not have any other previous base game (FFXIV) key activations.
S-ar putea sa-ți placa, de asemenea
Recenzii: 0
Final Fantasy XIV (Complete Edition) key
Final Fantasy XIV is a game developed and published by Square Enix. The original version was released in 2010 but soon shut down due to various reasons. In 2013, the game, known as Final Fantasy XIV: A Realm Reborn was released. This time, users jumped on the game in an instant. The new version was praised for its solid mechanics and progression. Now, the game has more than 16 million registered users.
Immersive Story
Buy Final Fantasy XIV (Complete Edition) key and experience the captivating story that takes place in Eorzea, a beloved land that you must protect from an incoming invasion! After the events in the original game, the primal dragon Bahamut gets free from its lunar prison and starts the Seventh Umbral Calamity, an apocalyptic event which destroys a large part of Eorzea. Through the blessing of a god, the player character manages to escape the all-consuming destruction by time travelling five years into the future. Now it is up to you to save the recovering Eorzea!
MMORPG Gameplay
Buy Final Fantasy XIV (Complete Edition) key and dive head-first into the fascinating MMORPG world of Final Fantasy XIV. Create your character and customize it, choosing your name, gender, race, facial features and starting class. Interact with the environment and other players, fight enemies by combining both physical and magical attacks.
Complete Edition
This edition includes:
Final Fantasy XIV: A Realm Reborn.


Final Fantasy XIV: Heavensward, which increases the level cap to 60, introduces new zones and flying gameplay, new playable race, new job classes and a completely new storyline.


Final Fantasy XIV: Stormblood, which features new zones with swimming and diving gameplay, increases the level cap to 70, adds three new jobs and changes to the battle system.
Buy Final Fantasy XIV (Complete Edition) key and go on new and epic adventures!
Cerințe de sistem
Cerințe Minime de Sistem
Cerințe de sistem

Windows® 7 64 bit, Windows® 8.1 64 bit, Windows® 10 64 bit

Procesor

Intel® Core™i5 2.4GHz

Memorie

4GB

Grafica

NVIDIA® Gece® GTX750 or AMD Radeon™ R7 260X

Depozitare

60GB
Cerințe de sistem recomandate
Cerințe de sistem

Windows® 7 64 bit, Windows® 8.1 64 bit, Windows® 10 64 bit

Procesor

Intel® Core™i7 3GHz

Memorie

8GB

Grafica

NVIDIA® Gece® GTX970 or AMD Radeon™ RX 480

Depozitare

60GB
Alte detalii
Limbi

Engleză

Franceză

Germană

Japoneză

Data lansării

20 iunie 2017

Editor

Square Enix

Dezvoltatori

Square Soft

Funcționează pe