S.T.A.L.K.E.R.: Bundle GOG Key GLOBAL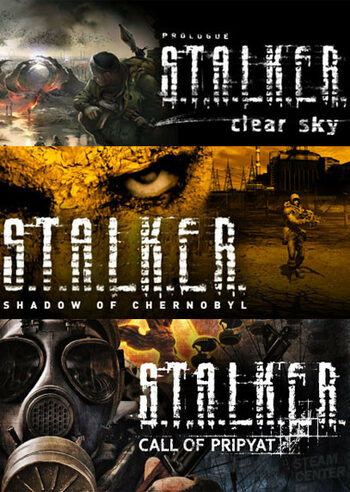 S.T.A.L.K.E.R.: Bundle GOG Key GLOBAL
GlobalPoate fi activat în

Statele Unite Ale Americii

Cheie digitală

Aceasta este o ediție digitală a produsului (CD-KEY)

Livrare instantanee
Notă importantă:
To redeem go to: https://www.gog.com/redeem
Gamerii au văzut de asemenea,
Recenzii: 13
Deathshroud

04.03.2021

Traducere automată

Cumpără-l deja. 3 jocuri pentru ceea ce pare a fura bani înțelepți. Ore și ore ale jocurilor cu cea mai bună atmosferă din ultimii ani. Joc de dependență,

McW

11.02.2021

Traducere automată

Oricine a jucat vreodată seria STALKER știe foarte bine câteva lucruri. În primul rând, la vremea lor, acestea nu erau jocuri care erau deosebit de pasionați de configurații slabe.

HecHRR

17.11.2020

Traducere automată

Excelentă trilogie. Este un joc care, de când a apărut, am reușit un complot și un decor impresionant, te ține în suspans, ocazional puțin leneș la început,

nilascolas

29.03.2021

Traducere automată

În timp ce jocul în sine ar putea părea puțin datat fără modurile adecvate, acestea sunt totuși jocuri grozave, aș recomanda! Atmosfera,

Dimaciedima

20.08.2020

Traducere automată

Un joc minunat, cu o poveste grozavă, coloană sonoră și gameplay. Pentru cei care doresc să joace Tarkov,
S-ar putea sa-ți placa, de asemenea
Descrierea produsului
S.T.A.L.K.E.R.: Bundle GOG Key
Ukrainian gaming studio presents a release conveniently containing several S.T.A.L.K.E.R. titles in one place - S.T.A.L.K.E.R.: Bundle GOG key. Enter the ominous area surrounding the infamous Chernobyl, known as Zona. The survival FPS gameplay enriched with horror elements invites players to test their mental capabilities and shooter skills in a game that spares no one. S.T.A.L.K.E.R.: Bundle key creates an alternative reality where things after the Chernobyl disaster took a much darker turn, giving birth to greater anomalies than humankind could imagine.
Three games in one
S.T.A.L.K.E.R.: Bundle key contains three games of the series: S.T.A.L.K.E.R.: Clear Sky, S.T.A.L.K.E.R.: Call of Pripyat, and S.T.A.L.K.E.R.: Shadow of Chernobyl. All three titles contribute to the S.T.A.L.K.E.R. franchise, the first in chronological order being Shadow of Chernobyl – twenty years have passed since the Chernobyl disaster, causing repulsive mutations and infecting surrounding areas with deadly levels of radiation. In 2012, it's finally safe enough to investigate the Zona in search of mysterious artefacts that might cost a fortune. The other two games continue to elaborate on the precarious investigations, recklessly nearing the center of the Zona. Will you survive the hazardous anomalies lurking in the radioactive area? Buy S.T.A.L.K.E.R.: Bundle GOG key and test your ability to adapt, survive and battle with creatures no man has ever imagined to see!
Engaging gameplay mechanics
S.T.A.L.K.E.R.: franchise can pride itself on achieving an intense gaming experience by developing engaging gameplay mechanics, surpassing many FPS titles in the survival genre. Played from the first-person perspective, the title seamlessly combines elements of survival, horror and FPS to bring out a rich gameplay that is not limited to merely shooting. A player must search the areas, react quickly to take down mutated creatures, enemies and carry out missions. Once you meet other Stalkers, you must quickly estimate them and make a choice – take them down or cooperate with them. Nothing is as it seems, so be prepared to trust no one, feel the breath of death on your back at all times and experience a challenging yet rewarding combat with S.T.A.L.K.E.R.: Bundle key!
Major S.T.A.L.K.E.R. game features
S.T.A.L.K.E.R. Bundle offers an abundance of game features that catches the attention of both the S.T.A.L.K.E.R. fans and newcomers that want to experience something different in the gaming world.
• Enormous open world. The games offer a huge open world to explore in search of artifacts and other mysterious items. The in-game environment is interactive, filled with anomalies that continually attempt to eliminate any human life in area of the Zona;
• Non-linear narrative. To add to the intensity of the gameplay, the story of the game is rather fragmented, told in non-linear fashion and providing at least several possible endings to it;
• Advanced AI. Enjoy the advanced in-game AI that control the enemies you meet – they will be no mere characters that you can easily take down with a few bullets, so be ready for a dynamic combat that requires skill and wit;
• Whole collection. The S.T.A.L.K.E.R. Bundle key contains all three games of the franchise;
• Cheaper S.T.A.L.K.E.R. Bundle price.
Cerințe de sistem
Cerințe Minime de Sistem
Cerințe de sistem

Microst® Windows® XP/Microst® Windows® 2000 SP4

Procesor

Intel Pentium 4 2.0 Ghz / AMD XP 2200+

Memorie

512 MB RAM

Grafica

128 MB DirectX® 8.0 / nVIDIA® GeForce™ 5700 / ATI Radeon® 9600

Depozitare

10 GB
Alte detalii
Limbi

Engleză

Franceză

Germană

Italiană

Poloneză

Rusă

Spaniolă, Castiliană

Data lansării

10 decembrie 2013

Editor

GSC Game World

Dezvoltatori

GSC Game World

Funcționează pe