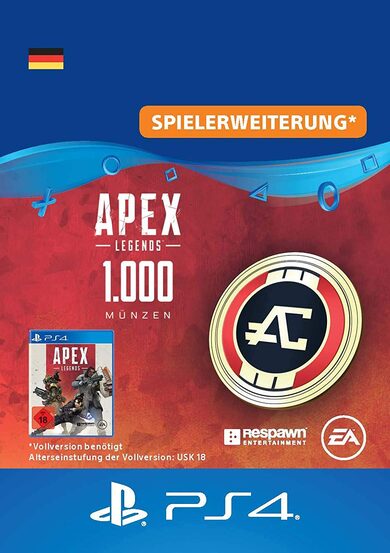 Apex Legends 1000 Apex Coins (PS4) PSN Key GERMANY
Can't be activated in United States
Works on
Important Notice:
For PS4 version of the game. Only works with GERMANY account.
Apex Legends 1000 Apex Coins (PS4)
Weapons, skins, voice lines and more – everything you need to stand out, you can get with Apex coin. So, buy 1000 Apex Coins and go through all the selection the store has to offer. Remake your character to reflect your vision for them, from new skins to recolours to weapons. Play how you want to with Apex coins.
Boxes of joy
We are talking about packs, of course. Apex packs are the bottomless chests (proverbially, of course) that reward players with various loot. Aesthetical items obtained from the chests are rare and will surely make you stand out. Furthermore, the more packs you open, the greater the chance of getting something extra special.
Buy 1000 Apex Coins and your purchase of packs also comes with a tiny surprise. Crafting materials, gained from the Apex packs, may be used to create the skin you wanted, but maybe didn't get from the packs. So, there's a level of appreciation here, because while not directly gifting you with something, the game doesn't let you down either.
Get more for less
We cannot talk about Apex coins without mentioning Battle Pass. The element has long been established in the genre, and so Apex players can also reap the additional rewards that come with each season. Buy 1000 Apex Coins and enjoy the gifts that come to you with each level you gain during the ongoing season. There are skins, materials and other goodies, all for the price of one Battle Pass. You may also get the Bundle Battle Pass, and this gives you the level boost, essentially giving you are a ton of rewards with minimal work. And everyone loves gifts!
Exclusivity
There are things that only coins will get you! Character customization is a staple in the game, but if you want something truly special, you should look into the premium currency. Buy 1000 Apex Coins and purchase the items that are not available for the regular Legend Tokens. Additionally, there are items you may buy with both of the in-game currency, but – of course – Apex coins will give you access to those things faster, and – in some cases – cheaper. New Legends for you to take to the field or skins you want for the last few weeks are all within your reach.
Just beware, the code only works for German users!
---
Release date:
February 15, 2018
Developers
Respawn Entertainment
Publisher
Electronic Arts Inc.
---