FIFA 20 - 500 FUT Points (Xbox One) Xbox Live Key GLOBAL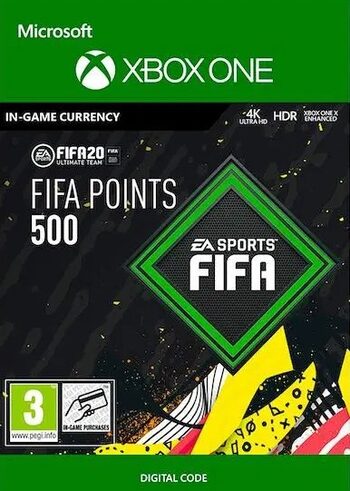 FIFA 20 - 500 FUT Points (Xbox One) Xbox Live Key GLOBAL
Udostępnij komuś, komu to się spodoba!
Przepraszamy, wyprzedane :(
Chcesz tę grę? Możemy powiadomić Cię e-mailem, gdy produkt będzie ponownie dostępny.
Powiadomienie
Cały światMoże być aktywowany w

Stany Zjednoczone Ameryki

Klucz cyfrowy

To jest cyfrowa wersja produktu (CD-KEY)

Natychmiastowa dostawa
Ważna uwaga:
Podstawowa wersja FIFA 20 Xbox One Klucz (Edycja Standardowa) jest wymagana do gry.
No expiration date. Grants only FUT Points. Make sure you own base game FIFA 20 (Standard Edition) (Xbox One) Xbox Live Key GLOBAL to use this code
Może ci się również spodobać
Opis produktu
FIFA 20 - 500 FUT Points (Xbox One)
As entertaining solo play in FIFA 20 might be, many of us will still inevitably float towards the Ultimate Team aspect. After all, what could be better than getting your favourite players in one team, playing and scoring victories left and right! And should you ever need a boost, we are here to help – buy FIFA 20 points and get ahead in this race to secure the best talents in the world. 500 FUT points are sure to offer plenty of help.
Legendary icons
Among the selection of who to include in your personal Ultimate Team, there are the famous faces of the past. Secure legendary players such as Zidane, Pirlo or many others, include their skills in your line up and ensure your team will withstand any opponents. Select available packs that you think will increase your chances, purchase with the currency you prefer (keep in mind that the price with FIFA points is cheaper) and see what you get. From players to consumables, buy FIFA 20 points and purchase items that will surely boost your experience.
Draft Tokens
Following the long-honoured tradition, FUT Draft is back. To play in this competitive mode, you have to use Draft Token or use your coins and 500 FUT points to unlock it. You can play offline or online and the competition consists of 4 consecutive matches. The thing you need to keep in mind while playing Draft is that you are given a random selection of players to pick from. It will not depend on the player you have, but neither will you keep the stars you pick.
Enhance your experience
Buy FIFA 20 points and see how far you can get ahead in FUT Draft – earn rewards according to your performance and build your fantasy team from the ground up; or purchase the available packs and take direct control over how your teambuilding turns out. 500 FUT points is an in-game addition that's with no doubt is worthy of your time, energy, and resource. Get yours today.
Pozostałe szczegóły
Data wydania

18 września 2019

Wydawca

Sony Online Entertainment

Deweloperzy

Sony Online Entertainment