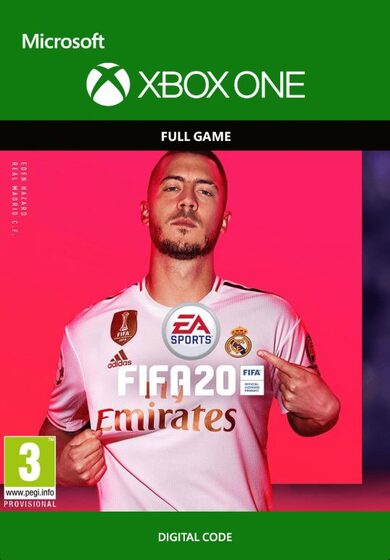 FIFA 20 (Standard Edition) (Xbox One) Xbox Live Key GLOBAL
99.3%

z 10k+ ocen są doskonałe!
Może zostać aktywowana w Stany Zjednoczone
Działa na
4

inne ofert
FIFA 20 Xbox One key (Standard Edition)
FIFA 20 is the newest EA's football sports game that once again brings fresh, fast-paced, and mechanically precise action to the fans all over the world. Buy FIFA 20 Xbox One key and experience football like never before. With the new Volta mode, vast character customization options, tons of new arenas, and well-needed changes to timed finishers as well as keeper movements – the game promises to surprise even the pickiest.
Volta Mode
Volta mode is the newest addition to the FIFA series. It's a street football mode in which you'll be able to immerse in the authentic culture, develop your own character and his/her playstyle and participate in the smaller-scale, more personal gameplay. A whole catalog of additional moves and multiple urban landscapes are just a few of the reasons on why's the mode worth your while.
Variety at its Finest
Buy FIFA 20 Xbox One key and experience your favorite modes too. Career, Kick-off, Seasons, and Ultimate Team modes are all coming back, and your created character (in Volta) will be able to play a part in each of these. Alongside these game modes, you'll also get to play on both pitch and streets. Huge stadiums are awesome, but so is the neighborhood cage in London, or the rooftop in Tokyo! Small scale face-offs – grandiose fun!
Much Needed Changes
Buy FIFA 20 Xbox One key and experience numerous gameplay changes first-hand. Beginning with timed finishing now being even harder to master, accuracy being tuned down across the entire field, and much more! Also, don't expect your keepers to move as they did in FIFA 19, that's another fix that this title is concerned with. And last but not least, FIFA 20 implemented manual defending and manual tackling features – no longer will you have to blindly trust the in-game AI!
Buy FIFA 20 today and get to experience what the newest gen of football can offer.
---
Szczegóły gry
Single player

Multi player

CO-Ops

Podział ekranu

Third-person

Side-view

Bird-view
---
Gatunek:
Działa na:
Języki:
---
Data wydania:
September 27, 2019
Wydawca
Electronic Arts Inc.
---
Wymagania systemowe:
Minimalne wymagania systemowe
Wymagania systemowe: 64-bit Windows 7/8.1/10
Procesor: AMD Phenom II X4 965 or Equivalent / Intel i3-2100 or Equivalent
Pamięć: 8 GB RAM
Grafika: AMD Radeon HD 7850 or Equivalent / NVIDIA GeForce GTX 660 or Equivalent
Miejsce na dysku: 50 GB
Zalecane wymagania systemowe
Wymagania systemowe: 64-bit Windows 10
Procesor: AMD Athlon X4 870K or Equivalent / Intel i3 6300T or Equivalent
Pamięć: 8 GB
Grafika: AMD Radeon R9 270X or Equivalent / NVIDIA GeForce GTX 670 or Equivalent
Miejsce na dysku: 50 GB