Minecraft: Windows 10 Edition - Windows 10 Store Key ARGENTINA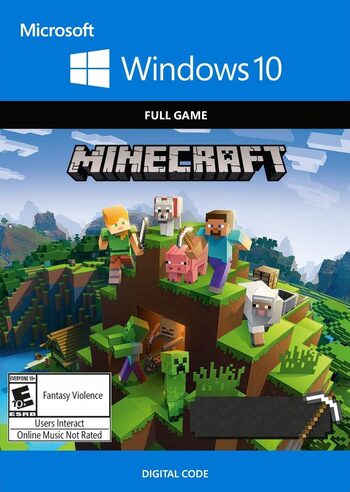 Minecraft: Windows 10 Edition - Windows 10 Store Key ARGENTINA
Ameryka ŁacińskaNie można aktywować w

Stany Zjednoczone Ameryki

Klucz cyfrowy

To jest cyfrowa wersja produktu (CD-KEY)

Natychmiastowa dostawa
Ważna uwaga:
No expiration date. The product works ONLY in ARGENTINA. Make sure that your account and IP is LOCATED in ARGENTINA!
All sellers on Eneba are verified
Opinie: 9
Anthony Key

19.02.2021

Przetłumaczone automatycznie

Świetna gra, pobudza kreatywność i jest bardzo zabawna, dużo więcej, jeśli grasz ze znajomymi, bardzo trudno się nudzić, ponieważ ...

Lolo

4.08.2021

Przetłumaczone automatycznie

Świetnie, kupiłem go dla mojego siostrzeńca, działa lepiej niż wersja Java na moim komputerze! Tryb tworzenia jest bardzo prosty,

Nathan

2.08.2021

Przetłumaczone automatycznie

Świetna gra na każdą chwilę do spędzenia z przyjaciółmi, jest to jedna z najlepszych piaskownic na świecie, nie ma wiele do powiedzenia na temat Minecrafta.

SEMFIS

13.09.2021

Przetłumaczone automatycznie

Lux do spędzenia wolnego czasu. Grafika może nie jest imponująca, ale ta gra ma swój urok, a ponadto możesz budować i robić prawie wszystko,

obito

18.02.2022

Przetłumaczone automatycznie

Czasami robi się nudno, ale kiedy grasz w trybie multiplayer, przestaje tak być, prawda jest taka, że gram bardzo dobrze, podoba mi się jego estetyka,
Może ci się również spodobać
Minecraft: Windows 10 Edition key
Minecraft: Windows 10 edition now allows you to join the fun on devices running Windows 10 operational system!

When we talk about Minecraft, it's hard to say where to begin. The sandbox video game was created by Markus Persson and later developed by Mojang. It's a reminiscent 8-bit game where your creativity is the only limiting factor. Imagine playing with lego — it's pretty much the same with Minecraft, only the blocks from which you build your masterpieces are neverending.

The World Is Your Playground!
The whole Minecraft Windows 10 Edition world around you is made out of blocks, reality itself is made out of blocks! Birds, sheep, clouds, and water are blocks! A never-ending, or rather, the ever-lasting world is full of caves, dungeons, monsters and other player designs! And the best part is that you can collect everything and use anything in your designs! Oh, by the way, there are portals to other dimensions as well.

It's All About Crafting!
There are countless possibilities of what you can craft in Minecraft Windows 10 Edition! Combine different materials and create items for construction, survivability, hunt or battle!

Different Game Modes for Your Ultimate Experience!
There are quite a few game modes to explore in single-player:
•Play survival, where you start empty-handed and have to create your own shelter, protection and everything around you from the very scratch.
•Go one step further into extreme survival, where you have a sole life, and with your death, everything created is lost!
•Unleash your talents in Creation mode, where you have instant unlimited resources, immortality, and an ability to fly!
•Ghostly Spectator mode, where you are just a wandering soul, untouchable, unimpactful but equipped with an all witnessing and seeing eye!

Online?
Buy Minecraft Windows 10 Edition and join Millions of players online. What's happening here will depend on the realm you decide to join. From battle arenas to limited survival matches, to massive construction worlds, Minecraft has it all! Explore, craft, create and enjoy!
Still thinking on whether it's the right time to buy Minecraft? Black Friday games list has this one included. As they say, patience is a virtue!
And then there's also the Minecraft Cyber Monday deal for those who like to score twice!
Wymagania systemowe
Minimalne wymagania systemowe
Wymagania systemowe

Windows 10 version 10240.0

Miejsce na dysku

50 GB
Zalecane wymagania systemowe
Wymagania systemowe

Windows 10 version 10240.0
Pozostałe szczegóły
Języki

Data wydania

29 lipca 2015

Wydawca

Mojang AB

Deweloperzy

Mojang AB

Działa na