Final Fantasy XIV: A Realm Reborn 60 Day Game Time Card Key EUROPE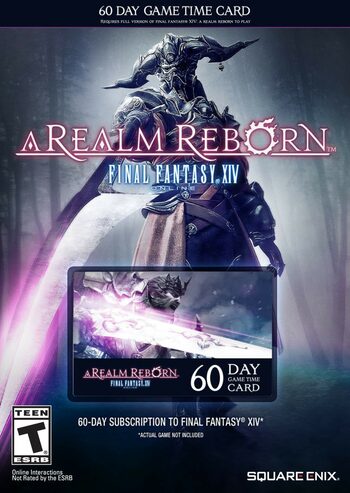 Final Fantasy XIV: A Realm Reborn 60 Day Game Time Card Key EUROPE
Share with someone who would like this!
Important Notice:
Requires the base game Final Fantasy XIV: A Realm Reborn on Square Enix in order to play.
9.90

Superb rating

(200k+ sales in the last 6 months)
Product description
Final Fantasy XIV: A Realm Reborn 60 Day Game Time Card
Timecards save you from the commitment of subscription but give all the same benefits. So, buy FFXIV 60-days time card and begin (or continue) your fight for the fate of Eorzea. Great adventure and equally as perilous danger await, and there's no time like the present to give the world a hero it deserves.
Something old, something new
Like many MMOs of today, Final Fantasy leads the player on a grand journey with an engaging story and tough bosses. The endpoint might be the same, but how you get there is different for everyone. You can pick from available initial classes, and later on, unlock more through advancement or discovery. If you are ready, buy FFXIV 60-days time card and experience the vastness of the in-game world, with the main story quests guiding you along.
Veteran rewards
Final Fantasy XIV employs a rewards system titles Veteran rewards. Depending on the number of days you are subscribed, you will receive different outfits centred around famous characters from FF series. It's just a bit of initiative and a thank you for the players… and time card also counts towards this prize. Therefore, you are not losing out on anything as compared to the subscribers.
Fresh and Unique
Whether you want the good old-fashioned adventure or maybe you plan to challenge all the bosses you find, buy FFXIV 60-days time card and you can start your career as the Warrior of Light. Pick from the variety of activities, learn a craft or two (or five!) and build your character any way you want to. Seamless class switching ensures you will never have to start from scratch again and your progress on the character is continuous. Run, ride and fly your way across huge maps and establish yourself as a hero for all.
The time card provided none of the restriction on the player, so feel free to pick and chose the best way to play and move forward. Once you buy FFXIV 60-days time card, the time is for you to spend as you see fit. Battle the forces of darkness or challenge someone to a game of cards, try out all the DPS classes or build yourself a perfect crafter – nothing is out of bounds!
Other details
Release date

August 27, 2013

Publisher

Square Enix

Developers

Square Enix

Works on