Minecraft: Windows 10 Edition (ROW) - Windows 10 Store Key GLOBAL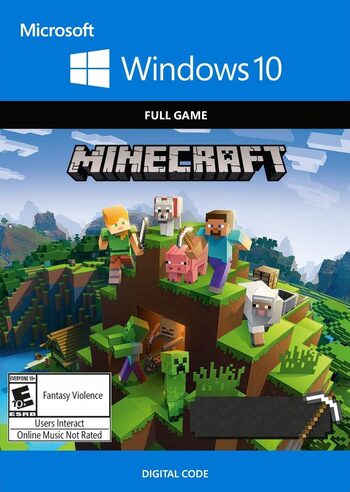 Minecraft: Windows 10 Edition (ROW) - Windows 10 Store Key GLOBAL
Share with someone who would like this!
GlobálisAktiválható itt:

Amerikai Egyesült Államok

Digitális kulcs

Ez a termék a(z) (CD-KEY) fizikai kiadása

Azonnali szállítás
Fontos közlemény:
For Windows 10 PC only. NOT COMPATIBLE with JAVA edition worlds and servers. This is a restricted product and it CANNOT be activated and played in France, Germany and Poland. To redeem code visit: http://account.microsoft.com/billing/redeem
Vélemények: 0
Minecraft: Windows 10 Edition key
More than a decade after its original release everyone's favorite Minecraft game continues to grow in popularity and evolve in accordance with the tendencies of the gaming industry. Starting out as a solo project of Swedish programmer and game designer Markus Persson, the game, later on, became a property of studio Mojang. Minecraft Windows 10 Edition key is yet another iteration of this massive open-world sandbox but unlike Minecraft: Java Edition this version comes with a full stash of useful Xbox Live features!
Minecraft Windows 10 vs. Minecraft Java Edition
Once you redeem Minecraft Windows 10 code, you'll get to play a version of Minecraft packed with a variety of Microsoft's updates. The game can be described as a PC port of Minecraft Pocket Edition, which also comes with the possibility to connect to Xbox Live, use the Xbox Live chat button, and accomplish up to 56 achievements. Minecraft Windows 10 Edition key introduces a new game menu with a new Store option – by selecting it you'll be able to browse through a wide assortment of unique Minecraft game skins and textures!
Familiar Minecraft gameplay returns!
All the modes and gameplay features present thought many versions of Minecraft video game are also present in Windows 10 Edition. You can indulge in the captivating Survival Mode, explore the procedurally generated block world filled with underground dungeon systems, iconic mobs, and portals to alternate dimensions! Alternatively, buy Minecraft Windows 10 Edition key to let your imagination go wild in the Creative Mode or explore a plethora of other options, each of which is loaded with opportunities to create your own adventure!
Minecraft Windows 10 Edition features:
• Minecraft PE PC port. Redeem the Microsoft code and enjoy a Minecraft version from Mojang originally released for mobile devices;
• Updated menu. Download Minecraft for PC (Windows 10 Edition) and play a version of the game packed with Xbox Live features: chat system, access Xbox Live store, and achievements;
• Procedurally generated world. Explore a procedurally generated open-world in a Survival Mode with no scripted sequences or predetermined narrative. Create your own adventure;
• No limits for building! Buy Minecraft Windows 10 Edition key and you'll basically own a digital LEGO set that places no limits placed on creative possibilities;
• Here at Eneba store, you can redeem Minecraft Windows 10 code cheaper!
Rendszerkövetelmények
Minimális rendszerkövetelmények
Rendszerkövetelmények

Windows 10 version 10240.0

Tárhely

50 GB
Ajánlott rendszerkövetelmények
Rendszerkövetelmények

Windows 10 version 10240.0
Egyéb részletek
Nyelvek

Megjelenés dátuma

2015. július 29.

Kiadó

Mojang AB

Fejlesztők

Mojang AB

Ezen működik