Star Wars: The Old Republic 2400 Cartel Coins Key GLOBAL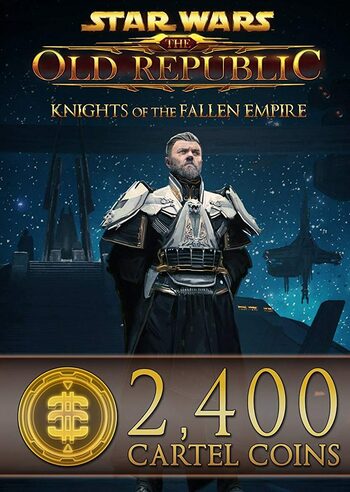 Star Wars: The Old Republic 2400 Cartel Coins Key GLOBAL
Share with someone who would like this!
Cheapest offer
Available at checkout:
Important Notice:
To redeem code visit: http://www.swtor.com/redeem-code
Star Wars: The Old Republic 2400 Cartel Coins
Star Wars: The Old Republic is one of the most ambitious MMORPGs ever made. Set in the iconic space opera universe originally envisioned by film director George Lucas, SWTOR was developed by RPG masters Bioware and first published by Electronic Arts back in 2011. Among myriad of other things, The Old Republic is special for its engaging storytelling and more than 200000 lines of recorded dialog. Buy 2400 SWTOR Cartel Coins virtual currency to further enhance this amazing experience and gain the most out of this science-fiction epic!
Era of The Old Republic
As a successor to Bioware's legendary Star Wars: Knights of the Old Republic RPG and it's sequel Star Wars Knights of the Old Republic II: Sith Lords, the game is set thousands of years before the original Star Wars movie trilogy. Witness an era of the Star Wars timeline defined by political tension between the Galactic Republic and the Sith Empire. Pick from 8 distinct classes throughout both opposing sides and use your 2400 SWTOR Cartel Coins to unlock unique species that serve as customization options in the character creation menu. And that's not all!
What else can you buy with Cartel Coins?
The Cartel Market features a multitude of other in-game items, mostly cosmetics. One of the best things to do in any Star Wars video game is to pick your lightsaber color if you are a Jedi. With this virtual currency, you will get to buy lightsaber color crystals, lightsaber mounts, unique armor sets, speeder upgrades, pets, and special character perks. If you happen to be one of the returning players, then buying 2400 SWTOR Cartel Coins will truly guarantee you an epic comeback. See for yourself the variety of upgrades, expansions, tweaks introduced to the game over the years and enjoy exclusive Star Wars: The Old Republic content at the same time!
Other details
Release date

1 July 2013

Publisher

Electronic Arts Inc.

Developers

BioWare