McAfee Safe Connect VPN 5 Devices 1 Year McAfee Key GLOBAL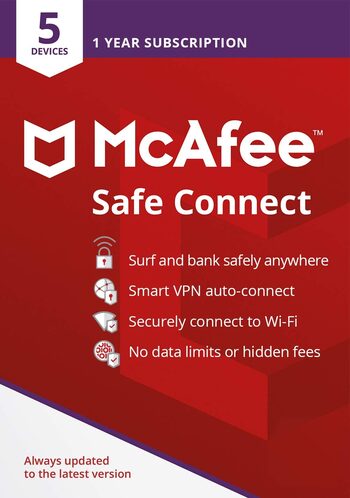 McAfee Safe Connect VPN 5 Devices 1 Year McAfee Key GLOBAL
Important Notice:
When activating your key, you might see that the origin of the key is different from your region. This does NOT mean that the key is in any way faulty - they can be activated in the region you are in.
Reviews: 0
Product description
McAfee Safe Connect VPN 5 Devices 1 Year McAfee Key
Includes:
• Virtual private network (VPN);

• Virtual VPN locations;

• Private browsing;

• Unlimited data protection;

• Auto-connecting VPN.

Online protection is a thing that has to be important for every person who is using the internet. It keeps us safe from various threats appearing online. Furthermore, modern protection ensures that the speed of our computers doesn't get interrupted, so we can enjoy safe and quick browsing anytime, while using online protection, with McAfee Safe Connect VPN 5 Devices 1 Year McAfee key. They are worldwide leaders in the web protection sphere, focusing on protecting people, rather than devices. Solutions of McAfee antivirus for PC adapt to whatever customer is needing, which lets him experience activities online together with integrated, modern, and easy solutions, that McAfee antivirus key is providing, including total online protection, antivirus, internet security, LifeSafe, and mobile security for your everyday needs.
Features of McAfee products
Take a look at various features that this brand is offering:
• Personalized protection.

With

McAfee protection

, you can be sure that your need to be safe from various online threats will be ensured. But not only that, because with a universal Windows platform security app Personal Protection, that works in Windows 10 S, you will be able to use security, identity, and privacy protection for your life in the digital world. There are two versions of the app: a free version, and a subscription-based version;

• Identity monitoring.

When using the

McAfee key

, you can be sure, that it will monitor your identity in order to protect you from various threats, such as cybercriminals. Furthermore, this feature constantly scans for credit activity and alerts you if something unusual happens;

• Online privacy.

With

McAfee protection

, your privacy while scrolling on the web will also be ensured. Antivirus software detects and removes malware, spyware, and adware and protects your PC in real-time through scheduled scans;

• Device security.

This feature protects things like critical data after leaving your company through removable media. It ensures your devices' data security while filtering, monitoring, and blocking confidential data on any removable storage device. Furthermore, it features centralized and simplified security management, that prevents confidential data loss and theft.
Safe connect
With Safe Connect you can enjoy your browning on the net seamlessly and privately. This means, that you can confidently connect to public hotspots or other unsecured networks with bank-grade Wi-Fi encryption. It was never so easy and safe to connect via network! Also, when buying McAfee Safe Connect VPN 5 Devices 1 Year McAfee key, you will get access to virtual VPN locations. That means, that you will be able to access geo-restricted content, apps, and websites around the world. Also, prepare for safe browsing, and ensure that your location, credit card info, and bank account credentials are all protected while browsing online. If you want your data to be always protected, you came to the right place, because with this purchase, all your data will be safe, so enjoy unlimited data protection without any limits. And, last but not least, you will get an auto-connecting VPN, which means, that you will be able to automatically connect to a VPN for all entrusted networks. What could be safer than this?
McAfee activation
guide
To activate the product follow these steps:
•

Go to the official

website

;

•

Enter your 25-digit activation code;

•

Log in or create a new account;

•

Download activated software.
Other details
Languages

Release date

1 January 2019

Publisher

McAfee

Developers

McAfee