ArcheAge - 8500 Credits Pack Key GLOBAL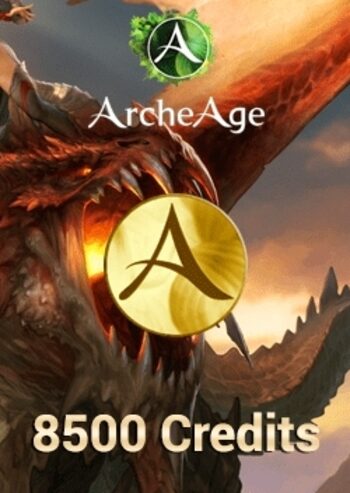 ArcheAge - 8500 Credits Pack Key GLOBAL
Share with someone who would like this!
Important Notice:
To redeem go to: http://www.trionworlds.com/archeage/en/store/redeem/ and follow the instructions.
Product description
ArcheAge - 8500 Credits Pack Key
New mounts, exciting costumes, bits and pieces to carry you to another level - buy ArcheAge 8500 Credits Pack and feel like true royalty. With great funds in your possession, nothing is off-limits! Be sure to take advantage of all the premium store has to offer and make your character rise above the rest.
Layers upon layers
Your possibilities are, quite frankly, endless. If you want to improve your character and their look, you can: costumes and aesthetic items and fashionable additions, or perhaps new mounts are to your taste, you can even grab a fancy new glider or two (of four, a new one for each season!). Once you buy ArcheAge 8500 Credits Pack, any of the cosmetic improvements are yours to get!
The marketplace is the only place where you can get various boosts and buffs so your character can climb even higher (and faster). It can be anything from temporary character enhancements to gameplay improvements. And with your funds, nothing is out of reach!
Get the most
Your Credits can be used to unlock content that is otherwise behind a money curtain. Become a Patron and enjoy great enhancements in the form of exp increase, no waiting times in a queue, and – most importantly – Labor points! Buy ArcheAge 8500 Credits Pack and you will never have to worry about waiting or measured spending. The aforementioned points are your main currency when it comes to crafting and professions, they are generated according to the time you spend online; but with Patronage under your name, you can be offline and still get the points you need for your next crafting project.
Loyalty appreciation
Yet another premium currency within the game is Loyalty tokens. They can only be gained by being a Patron, and there's a set number you may gain in a day, so the longer you have it, the better rewards you can purchase. Buy ArcheAge 8500 Credits Pack and do not limit yourself: get that mystery box and try your luck with RNG, or save up for that magnificent mount and astound others with your wealth. ArcheAge lets you play the game however you want to, with possibilities and chances around every corner.
Other details
Release date

15 October 2013

Publisher

Trion Worlds

Developers

XL Games