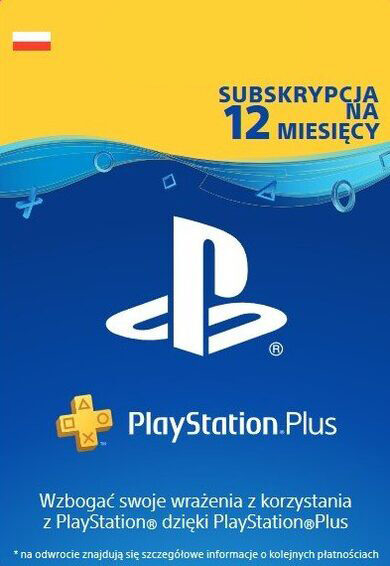 PlayStation Plus Card 365 Days (PL) PSN Key POLAND
99.79%

de casi 250k+ lo califican de excelente!
No se puede activar en Estados Unidos
Funciona en
Noticia importante:
No expiration date. Code is valid only for the POLAND PSN account.
12

ofertas
PlayStation Plus Card 365 Days (PL)
Buy PlayStation Plus Card 365 Days (PL) subscription and embark on a journey lasting all throughout the year! PlayStation Network is one of the vastest and most expansive social entertainment networks in the world for a reason, and the reason is fairly simple – the platform does wonders for its users. If you own PS4, then you for sure know what the benefits of being a member are, and without a doubt, you want to stay enlisted. However, if you are new to the whole PS Plus subscription deal – congratulations, you are in the right place.
Complete Freedom
Playing games and using other PS4 features is entertaining, however, there's a way to increase the entertainment level through the roof and beyond! How? Buy PlayStation Plus Card 365 Days subscription and unlock every single feature that the platform can offer. The effect is quite guaranteed – from the moment you load the subscription key code unto your PSN account, there's no escaping it. Complete freedom of gaming is yours for the taking, all year round, all throughout!
Numerous Features
Complete freedom is quite too broad of a term to define all the concrete features that come from being the PS Plus member. In order to help you truly understand why the PS Plus membership is what it is, and does what it does, we'll have to split the PlayStation Plus Card 365 days membership apart, separate it's captivating features one by one, and then discuss each thoroughly – so that at the end of it all, you'd leave with awe, eyes wide open, and ever-burning desire to join the millions of players worldwide in a massive multiplayer community!
Awesome Community
One of the main building blocks to a functioning, active, well-established, and reliable platform is precisely the community in it. These men and women from all over the world are united by a few simple factors: quality, entertainment, reliability, safety, and camaraderie. Don't shy away from an online network that can provide all of the above plus more – on the opposite, drag yourself closer to it, buy PlayStation Plus Card 365 days subscription and let the seamless ease of online gaming overflow you! Co-op with a bunch of friends or compete against the best in the world! The easy to navigate multiplayer system will match you only against the players that meet your own skill level – so that you'd never get bored and continue to progress even during the hardest of days.
Free Monthly Games
And that's just one of the features that the PS Plus membership brings. Another one comes in the form of free games! Yes, two of the most desired, popular, and critically acclaimed games are brought for PSN users to evaluate each month! Buy PlayStation Plus Card 365 Days subscription and receive a total of 24 astonishing games over the course of your subscription. Free of additional fees, all yours to keep till the end of days! Just stand still and think about it for a second – a single purchase pays off for more than you can even imagine, and the best part about this is that you get to keep all of the games that you receive throughout the months passing!
Exclusive Discounts
Last, but far from the least is the amount and quality of the member-exclusive discounts that the PS Store offers. Sales, offers, beta tests, and demo playthroughs are what the PS Store is all about – and you are about to witness the greatness first-hand. Buy PlayStation Plus Card 365 Days subscription and enjoy member-exclusive deals for up to 75% with special offers that even exceed the latter. And the best part is that these are constantly on the menu, so don't wait any longer and pick your cuisine! If you want to save on your future purchases, reap the numerous benefits and enjoy the well-rounded experience!
Save a Pretty Penny
Honestly, if you're a gaming enthusiast, and since you have a PS4 you probably are, it's more than likely that you'll buy at least a few releases during the 12 month period, and if that's the case – you are very likely to save a pretty penny on these! Buy PlayStation Plus Card 365 Days subscription and save on your future purchases! If you can save quite a lot, why shouldn't you do it? Imagine how much you'd save if acquiring games is a common practice in your household – a whole fortune! Also, the two freebies you can download each month are no joke as well. Such games as Rocket League and That's You once launched right on PS Plus Monthly, so you never know what kind of a blast you may receive entirely for free!
Other Benefits
Some other member-exclusive deals with PlayStation Plus Card 365 Days subscription (or any other monthly subscription card) include the PS Plus hub and 100GB on cloud storage! The PS Plus hub is the members' area which you can access right from your home screen – inside you'll find every single feature required to expand your gaming experience to its very maximum. And while the PS hub provides you with all the convenient info in one awesome UI, the additional 100GB space in cloud storage will allow you to save your PS4 game progress right on the cloud! Pick up your adventures from where you left off, no matter which console you're loading your game on.
Easy Activation
Pick PlayStation Plus Card 365 Days subscription offer right here, right now. If your membership is about to end, you know that you'll want it again, and buying it for the whole year period is the cheapest (counting pay per day) and most convenient (single purchase – 12months lasting experience) way to extend the awesomeness! Buy it, receive the code, activate it, and enjoy everything that the PS Plus can offer. In order to activate the digital code (which you receive through your email) with seamless ease, follow these steps:
• Buy PlayStation Plus Card 365 Days;
• Check your email for the digital code;
• Go from your PlayStation dashboard right to the Store;
• Scroll to the very bottom of the Store, right to where you see the Redeem Codes button;
• Check for a request that asks you to enter the prepaid PlayStation card number;
• Enter the Digital Code which you've received in your email;
• Success! Enjoy your newly gained all-year-round membership!
---
Fecha de lanzamiento:
November 29, 2013
Desarrolladores
Sony Computer Entertainment
Publisher
Sony Computer Entertainment
---