Far Cry 6 Pre-order Bonus (DLC) (PC) Official Website Key EUROPE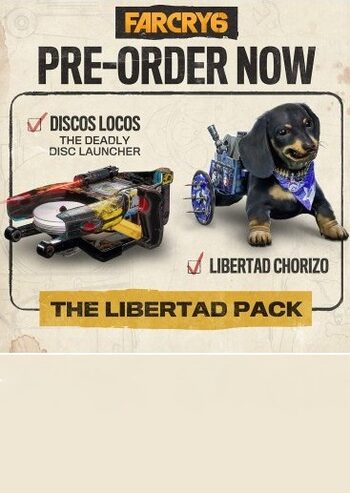 Far Cry 6 Pre-order Bonus (DLC) (PC) Official Website Key EUROPE
¡Compártelo con alguien a quien podría gustarle esto!
Lo sentimos, agotado :(
¿Quieres este juego? Podemos notificarte por correo electrónico cuando el producto vuelva a estar disponible.
Notificación
Noticia importante:
Se requiere el juego base Far Cry 6 código Uplay para poder jugar.
To redeem visit: https://redeem.ubisoft.com/far-cry-6/
Actualizaciones recomendadas
Mejora tu experiencia de juego.
Mayor rendimiento y fluidez del juego
Mayor calidad y resolución de los gráficos
Tiempos de carga más rápidos
Compatibilidad con las últimas tecnologías
Ver todas las ofertas (1086)
También te puede interesar
Reseñas: 0
Far Cry 6 Pre-order Bonus (DLC)
Far Cry 6 Pre-order Bonus (DLC) includes:
•

Discos Locos disc launcher weapon;

•

Libertad Chorizo outfit for your animal companion.
Have your chance to experience the sixth installment in the open-world first-person action series by purchasing the Far Cry 6 Uplay key! Publisher and developer Ubisoft is ought to deliver a game that utilizes all of the best traits of its predecessors and surpasses them in all aspects. Don't worry if you haven't played Far Cry before – each game presents its own separate story and characters so you won't feel lost even as a newcomer. At the same time, veterans of the series will get to experience a Far Cry game that has a high potential of becoming their new favorite!
Return of the tropical setting
Far Cry 6 Uplay key is a great choice for those who missed Far Cry games set in tropical islands. While the settings of Far Cry 4 and Far Cry 5 were interesting in their own right, many fans always felt nostalgic about the tropical settings featured in the original Far Cry or the massively successful Far Cry 3 from 2012. The sixth installment in the franchise once again invites the players to explore another island paradise that is the fictional nation of Yara!
Memorable villain
In many aspects Yara was inspired by the Republic of Cuba: warm climate, 1950s vibe, and an isolationist attitude enforced by a charismatic dictator – el Presidente Anton Castillo. Far Cry series has introduced multiple memorable villains in the past and those who'll buy Far Cry 6 Uplay key can expect nothing less from the upcoming game. The main antagonist Anton Castillo will be played by none other than Giancarlo Esposito – an actor known for such breathtaking roles as Gus Fring from Breaking Bad and Moff Gideon from The Mandalorian TV series!
Your role in the revolution
While Anton Castillo rules over the country from the capital of Esperanza (a location player will get to visit) a revolutionary movement starts to take place. You will assume the role of a revolutionary named Dani Rojas – a local guerilla fighter on the quest to bring freedom to Yara. One of the features Far Cry 6 Uplay key brings along is the option choose the preferred gender of the main protagonist – a feature that was not present in some of the earlier games from the series. Mold your character, develop skills, modify impromptu guns similar to the ones from Far Cry: New Dawn, and shape the fate of your tropical homeland!
Far Cry 6 features:
• Tropical open-world setting featuring different forms of wildlife, multiple factions and urban zones like the capital of Esperanza;
• Far Cry 6 introduces 3rd person cutscenes for the first time in the series for a more cinematic experience;
• Players will get to choose the gender of the main protagonist Dani Rojas;
• Far Cry fans are once again introduced to a memorable villain – this time its el Presidente Anton Castillo played by Giancarlo Esposito (Gus Fring from Breaking Bad);
• Far Cry 6 Uplay key goes for a very good price!
Would like to purchase previous Far Cry games? Visit the Ubisoft collection right here on Eneba game store!
To redeem visit: https://redeem.ubisoft.com/far-cry-6/
Select your prefered platform
Requisitos del sistema
Requisitos mínimos del sistema
Soporte de 64 bits

Sí

Requisitos del sistema

Windows 10

Procesador

AMD Ryzen 3 1200 @ 3. Ghz / Intel Core i5-4460 @ 3.1 Ghz

Memoria

8 GB RAM

Gráficos

AMD RX 460 (4 GB) / NVIDIA GeForce GTX 960 (4 GB)
Detalles del pedido
Idiomas

Alemán

Español

Francés

Inglés

Italiano

Polaco

Fecha de lanzamiento

7 de octubre de 2021

Editor

Ubisoft

Desarrolladores

Ubisoft Studios