FIFA 23 : 5900 FIFA Points (Xbox One/Xbox Series X|S) Xbox Live Key UNITED STATES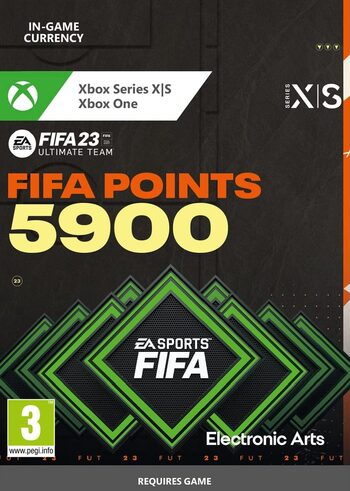 FIFA 23 : 5900 FIFA Points (Xbox One/Xbox Series X|S) Xbox Live Key UNITED STATES
Sdílejte to s někým, kdo by to chtěl!
Litujeme, vyprodáno :(
Chcete tuto hru? Až bude produkt opět k dispozici, můžeme vás upozornit e-mailem.
Oznámení
Spojené státy americkéLze aktivovat v

Spojené státy americké

Zkontrolujte

Digitální klíč

Toto je digitální vydání produktu (CD-KEY)

Okamžité doručení
Důležité upozornění:
No expiration date. Grants only FUT Points. Make sure you own base game FIFA 23 on your Xbox One/Xbox Series X|S console to use this code. Make sure to redeem multiple FUT Points codes in 5-minute intervals.
Mohlo by se vám také líbit
FIFA 23 : 5900 FIFA Points (Xbox One/Xbox Series X|S)
Make the most of your FIFA 23 Ultimate Team experience by purchasing a stash of in-game currency known as FIFA 23 Ultimate Team Points or FUT Points for short! Unlike the alternative FUT Coins currency that can only be earned by playing matches, FUT Points can be obtained by purchasing a cheap FIFA 23 – 5900 FIFA Points Xbox Live key in our marketplace. This way, you save your time and energy, and have to grind way less in your pursuit of assembling the ultimate dream football team!
What can I buy with FIFA 23 Points?
FIFA 23 Ultimate Team Points can be used for two purposes: to purchase FUT Packs that contain player cards as well as consumables or to pay the Draft entry fee. There are many FUT Packs featured in the in-game market, each of which promises items of varying rarity, depending on a particular pack's value. The alternative option of using the cheap FIFA 23 – 5900 FIFA Points Xbox Live key is to gain access to the Draft competitive mode, where you'll have a chance to win special rewards based on your performance.
Will FIFA points carry over?
One of the best things about FUT Points is that they are among the few in-game items that can be transferred from one title to the next until the end of the year. Many FIFA 22 fans have relied on this feature to build Ultimate Team careers that extend throughout multiple FIFA games. As long as you keep in mind that FUT Points can't be returned to the previous installment once the transfer is complete, a cheap FIFA 23 – 5900 FIFA Points Xbox Live key will never be an empty investment. Don't hesitate – increase your FUT Points balance today and make the most out of your time with FIFA 23's most popular Ultimate Team mode!
How to redeem FIFA Points on Xbox:
• When on the Home screen, go to the Store selection;
• Find Categories selection, choose Games option;
• Choose the Use a Code feature (or shout out at your controller – Xbox, use code!);
• Sign in if prompted;
• Your prepaid key will either come in the form of a QR code or the 25-character code;
• In the case of QR code hold it to your Kinect sensor. In the case of the 25-character code, simply enter it by hand.
Did you know that the Eneba store also features a FIFA 23 Xbox One key for a very good price? Check out the offer now and don't miss the chance to expand your personal game library with the latest installment in the FIFA Series! And if you're looking for other titles from this series, then head to our FIFA games collection.
When it comes to FUT Points, remember that your options are not limited to this offer! You can visit the FIFA FUT Points category on our website to browse through the full selection of FIFA currency packs and redeem codes on your preferred platform!
Další podrobnosti
Jazyky

Datum vydání

23. září 2022

Vydavatel

Electronic Arts Inc.

Vývojáři

EA Canada