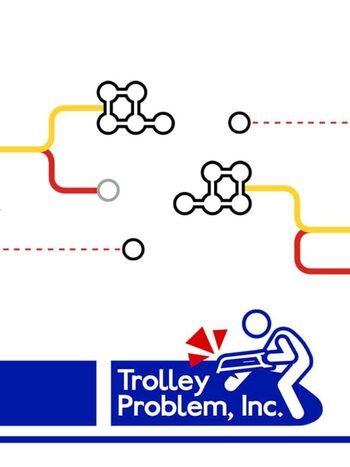 Trolley Problem, Inc. (PC) Steam Key EUROPE
Sdílejte to s někým, kdo by to chtěl!
Litujeme, vyprodáno :(
Chcete tuto hru? Až bude produkt opět k dispozici, můžeme vás upozornit e-mailem.
Oznámení
EvropaNelze aktivovat v zemi

Spojené státy americké

Digitální klíč

Toto je digitální vydání produktu (CD-KEY)

Okamžité doručení
Recenze: 0
Popis produktu
Trolley Problem, Inc. (PC) Steam Key
Looking for a game that will grip you so much you won't want to turn it off for hours and hours? Well, you found the right one! Trolley Problem, Inc. key on Steam is exactly what you're looking for with its characters and gameplay worthy of every minute and all your effort. 2022-04-21 marks the day the game came out, developed by the capable Read Graves and published by a globally acclaimed gaming studio – Yogscast Games. Buy Trolley Problem, Inc. Steam key, save your funds with a great price, and put your abilities on trial to see if you're good enough to call yourself a master of simulator video games!
Simulator genre
With an unlimited amount of activities to engage in, Simulator games can get quite addictive. Trolley Problem, Inc. Steam key, too, lets its players enjoy the freedom and exploit all sorts of power. There's no definite endpoint unless you create one. You can spend countless hours playing the same match or you can end one and start another one. You have the full ability to change the idea of what a victory should look like in your gameplay. Think you can handle that much freedom?
Features
You're bound to enjoy Trolley Problem, Inc. key, especially since it includes these features that elevate the gameplay to a whole new level:
• Indie – This title was developed by an independent team experimenting with gameplay mechanics, style, and innovations;
• Realistic graphics – The game world is presented in stunning realistic graphics for full immersion;
• Story-driven – You are encouraged to pay close attention to characters, their thoughts, motivations, actions, and how it all affects the narrative;
• Stylized graphics – This title utilizes simplified structures, painted textures, and exaggerated features to present the environment;
Cheap Trolley Problem, Inc. price.
Systémové požadavky
Minimální systémové požadavky
Systémové požadavky

Windows 7

Procesor

1.5 GHz Core2Duo

Paměť

4 GB RAM

Grafika

Intel HD Graphics 4000

Úložný prostor

400 MB
Další podrobnosti
Jazyky

Datum vydání

21. dubna 2022

Vydavatel

The Yogscast

Vývojáři

Read Graves

Pracuje na