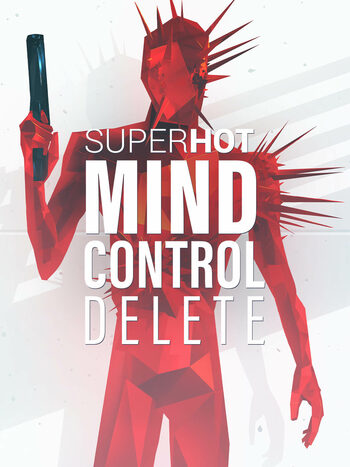 SUPERHOT: MIND CONTROL DELETE Steam Key GLOBAL
Sdílejte to s někým, kdo by to chtěl!
GlobálníLze aktivovat v

Spojené státy americké

Zkontrolujte

Digitální klíč

Toto je digitální vydání produktu (CD-KEY)

Okamžité doručení
Recenze: 0
Mohlo by se vám také líbit
Popis produktu
SUPERHOT: MIND CONTROL DELETE Steam key
SUPERHOT: MIND CONTROL DELETE offers a breath of fresh air blowing into the ultra-realistic FPS games market. The game was developed by Superhot Team, and while it has standard FPS game mechanics like moving and shooting to eliminate your enemies — the action is only moving, when you are! In other words, if you stop, everything around you gets significantly slower! This provides players with an opportunity to evaluate their every move before recommencing to real-time mayhem. Buy SUPERHOT: MIND CONTROL DELETE key and participate in combat within minimalistic environments, where the enemies are red, the guns are black and everything else is either white or grey! This lets you focus on what's really important — rad slow-motion overkills!
SUPERHOT: MIND CONTROL DELETE features
The SUPERHOT: MIND CONTROL DELETE Steam key is the follow-up game in the SUPERHOT series, and it arrives with a set of innovative gameplay features!
• Minimalism-oriented gameplay. In terms of graphics and gameplay controls, the game takes on a minimalist approach, creating fluid gameplay based on intuitive movement;
• Brilliant design. At first glance, graphics can seem bleak but once you begin gaming, you realize that details caught in slow-motion action and overall colour design are perfect for focus;
• Slow-motion combat. Time works differently here, so get ready for explosive slow-motion combat where mayhem is taken to a whole new level;
• More playable characters. Now there are more characters for you to control and of course, more foes to face with greater skills and faster reflexes;
• Cheap SUPERHOT: MIND CONTROL DELETE price.
Creating a surreal feeling
The SUPERHOT: MIND CONTROL DELETE game takes an entirely unique approach to the FPS genre. Instead of creating another typical warfare setting and developing a huge array of weapons to introduce variety to the execution of FPS elements, the developers designed a surreal environment where everything works differently. Realistic physics combined with slow-motion, and time that moves only when you move, creates a surreal feeling and atmosphere. You appear in white rooms where humans are red, clearly, you are outnumbered, and the only way to get new weapons is to grab them off the fallen ones. Buy SUPERHOT: MIND CONTROL DELETE key and experience a unique FPS gameplay!
Systémové požadavky
Minimální systémové požadavky
Systémové požadavky

Windows 7

Procesor

Intel Core2Quad Q6600 2,40 GHz

Paměť

4 GB RAM

Grafika

GeForce GTX 650 (1024 MB Ram)

Úložný prostor

3 GB
Doporučené systémové požadavky
Systémové požadavky

Windows 7

Procesor

Intel Core I5-4440 3,10 GHz

Paměť

8 GB RAM

Grafika

GeForce GTX 660 (2048 MB Ram)

Úložný prostor

3 GB
Další podrobnosti
Jazyky

Angličtina

Francouzština

Italština

Japonština

Němčina

Polština

Portuguese-Brazil

Ruština

Čeština

Španělština

Datum vydání

16. července 2020

Vydavatel

SUPERHOT Team

Vývojáři

SUPERHOT Team

Pracuje na