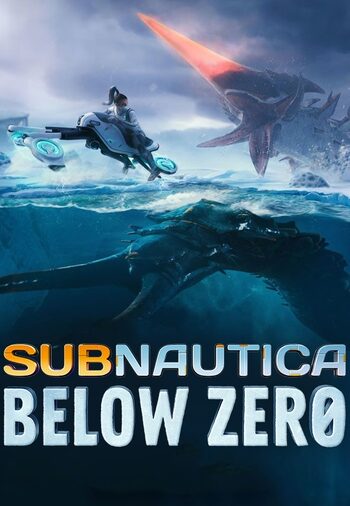 Subnautica: Below Zero Steam Key GLOBAL
Sdílejte to s někým, kdo by to chtěl!
Nejlevnější nabídka
Buy as a gift
Receive this product as a gift PDF.
Available at checkout:
GlobálníLze aktivovat v

Spojené státy americké

Digitální klíč

Toto je digitální vydání produktu (CD-KEY)

Okamžité doručení
9.80

Skvělé hodnocení

(20 k+ prodejů za posledních 6 měsíců)
Recenze: 0
Popis produktu
Subnautica: Below Zero Steam Key
Return to the arctic region of Planet 4546B to unravel the dark mysteries that lurk in the murky depths of this alien ocean world! Unknown Worlds Entertainment studio presents the long-awaited sequel to their smash hit open-world survival game - Subnautica: Below Zero. Two years have passed since the events of the first Subnautica game and many questions are yet to be answered. This time you dive into the unknowns of Point Zero as a protagonist searching for their missing sister. Abandoned research stations, logs, items and various databanks suggest that there's more to all of this than meets the eye and the investigation will be an arduous process. Buy Subnautica: Below Zero Steam key and utilize everything you've learned about survival to thrive in the freezing waters of Planet 4546B!
Subnautica: Below Zero features
There's always something waiting to be discovered inside every nook and cranny. Learn more about the environments and lifeforms, both friendly and hostile, that inhabit this planet!
• Whole new biomes. As the name suggests, players get to explore the freezing waters of the arctic region - crystal caverns, snow-covered peaks, icy caves, thermal vents and many more mesmerizing places await;
• Craft to survive. Crafting is taken to a whole new level thanks to the icy temperatures - you'll have to not only create suitable gear, livable habitats and effective transportation but also ensure that everything you build is able to stave off the cold and keep you comfortably warm;
• Unravel the mystery. This sequel promises even more secrets and cover-ups - learn what happened to your sister, why the scientists disappeared, leaving everything they had behind, and who were the aliens that came to this planet first;
• An ocean full of life. New environments mean new alien lifeforms - discover all the creatures, big and small, that prefer dark and cold places of this ocean world;
• A work in progress. The game is still in development, so expect almost weekly updates that add new content and fixes to make your experience better - don't forget to leave feedback to the devs to get the changes you want to see;
• Cheap Subnautica: Below Zero price.
What lies in the depths of the ocean
With the Subnautica: Below Zero key, players get to explore a whole new region of Planet 4546B - the Arctic! Your sister, along with other scientists that were conducting research in this alien world, has mysteriously vanished one day and you alone decided to get to the bottom of this. Once again you get to plunge into these strange waters in the hopes of uncovering the truth but it won't be easy as all the challenges of the previous game are back to haunt you. Dangerous Leviathan creatures, freezing temperatures and scarce resources are but a few of the things you'll have to face with the Subnautica: Below Zero Steam key. The question is - are you ready?
Systémové požadavky
Minimální systémové požadavky
64bitová podpora

Ano

Systémové požadavky

Windows 7

Procesor

Intel Core i3 / AMD Ryzen 3 2.6ghz+

Paměť

8 GB RAM

Grafika

Intel HD 530

DirectX

11

Úložný prostor

15 GB
Doporučené systémové požadavky
64bitová podpora

Ano

Systémové požadavky

Windows 10

Procesor

Intel Core i5 / AMD Ryzen 5 @ 3Ghz +

Paměť

8 GB RAM

Grafika

Nvidia 1050 Ti / AMD Radeon 570, 4GB VRAM

DirectX

11

Úložný prostor

15 GB
Další podrobnosti