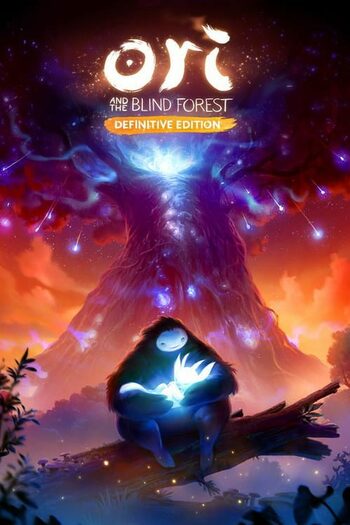 Ori and the Blind Forest (Definitive Edition) Steam Key GLOBAL
Sdílejte to s někým, kdo by to chtěl!
GlobálníLze aktivovat v

Spojené státy americké

Digitální klíč

Toto je digitální vydání produktu (CD-KEY)

Okamžité doručení
Mohlo by se vám také líbit
Recenze: 1
Szeky88

13. 3. 2023

0

Perfektná hra, som ju hral keď vyšla roky dozadu a už som zabudol aká bola na nervy. Jeden zlý krok a od záchytného bodu, a keď neukladáte pravidelne tak príde "rage quit" z hry.
Ori and the Blind Forest (Definitive Edition) Steam key
Do you love platform games? Perhaps you enjoy discovering secrets and uncovering the truth? Are you a fan of enchanting music? All of the above? Perfect! Buy Ori and the Blind Forest key and jump right into this fantastic adventure.
A living dream
It might not look like it, but Ori and the Blind Forest actually has depth and layers to it. It is an intricate jumping platformer, which will not spare you. Some parts are easier, some extremely hard, there are also one-shot chase events. All in all, this beautifully crafted work of art should not be underestimated, as you will die repeatedly. Learn for that, adapt and carry on – it's well worth it.
Yet above it all is the narrative and the message it carries. Buy Ori and the Blind Forest key and revel in a deeply emotional amalgamation of friendship, family, love, devotion and persevering hope. Honestly, the title features a story whose impact may be likened to AAA games or even movies. It's something you just have to experience for yourself!
Work of art
Quite literally, in Ori's case. Each background is so astoundingly beautiful you might just find yourself staring at all the details hidden in plain sight. The colors are beautiful and vibrant, giving each level a unique look and encouraging player to carry on and discover even more! See it for yourself: buy Ori and the Blind Forest key and traverse this dreamy world. Ori blends seamlessly with the environment, and that's not a detriment at all – he looks like he belongs there as if a character stepped out of a picture book for a moment. The feeling of fantasy and waking dream carries over through the whole game.
And the entire experience is only enhanced by the soundtrack. This game is proof that half of your enjoyment can come just from the sounds the game supplies. There's never a dull silent moment, the events and plot point are suitably underlined by fitting tunes. Should you buy Ori and the Blind Forest key, do not be surprised if the complex composition of visuals and audio will imprint in the memory for a time to come.
Like nothing before
We are hot exaggerating by saying that Ori and the Blind Forest is one of a kind. Never before had a platformer with simple mechanics have such an impact. The hidden gem in the title is the story, as the developers forged a tale or great proportions. There is just something special about this game, and you must try it!
Systémové požadavky
Minimální systémové požadavky
Systémové požadavky

Windows 7

Procesor

Dual Core 2.2GHz

Paměť

4 GB RAM

Grafika

1 GB

Úložný prostor

8 GB
Doporučené systémové požadavky
Systémové požadavky

Windows 7

Procesor

Intel Core i5 2300 or AMD FX6120

Paměť

4 GB

Grafika

GeForce GTX 550 Ti or Radeon HD 6770

Úložný prostor

11 GB
Další podrobnosti
Jazyky

Angličtina

Francouzština

Italština

Japonština

Němčina

Portuguese-Brazil

Ruština

Španělština

Datum vydání

27. dubna 2016

Vydavatel

Microsoft Studios

Vývojáři

Moon Studios

Pracuje na