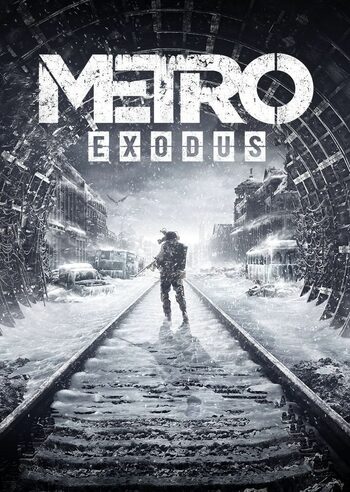 Metro Exodus Steam key GLOBAL
Sdílejte to s někým, kdo by to chtěl!
GlobálníLze aktivovat v

Spojené státy americké

Zkontrolujte

Digitální klíč

Toto je digitální vydání produktu (CD-KEY)

Okamžité doručení
Důležité upozornění:
The product cannot be activated in Japan and Saudi Arabia.
9.90

Skvělé hodnocení

(250k+ sales in the last 6 months)
Recenze: 0
Mohlo by se vám také líbit
Popis produktu
Metro Exodus Steam Key
Metro Exodus (PC) Steam key offers a new and unique action FPS experience which is developed by "4A Games". This is the third installment of a well-known action and survival-horror series where you will be the good old character Artyom. With this character, you will uncover mystic secrets of post-apocalyptic Moscow, its underground metro tunnels, and above. Metro Exodus (PC) Steam key continues the storyline after previous games, hence players who played other games in the series will be pleased with the continuation of the dramatic story. This time you will travel East, but only when buying the game will you know what adventures await you there.
Post-apocalyptic realism
After the apocalypse, most people in Moscow left the surface and started to live in underground metro stations. Horrific and mutated monsters roam the surface and only fearless warriors dare to travel above from sometimes safe metro depths. Get ready to be entertained by amazing weather effects and changes in the environment through all seasons. Just don't forget that dangerous enemies and mutated monsters aren't the only threat because there is also radiation in the Metro Exodus Steam key game. Like previous installments of the series, Metro Exodus has strong and popular stealth mechanics, hence the player has total freedom when dealing with enemies.
Metro Exodus gameplay features
Get to know the elements of Metro Exodus, which are the reason to buy and experience this game:
• the world after the apocalypse. Of course, you can find plenty of movies, sci-fi literature, and other video games which deal with post-apocalyptic themes and worlds, but most people agree that the post-apocalyptic world of the Metro series is one of the most realistic ones;
• realistic atmosphere. Like other games in the series, Metro Exodus offers big attention to realism. From characters and conversations to shooting and environments – everything resembles the feeling of real Moscow;
• crafting unique guns. Without usual guns found in the game, you will have an option to craft your own weapons. Players who enjoy crafting mechanics will feel right at home;
• freedom in battle. Fight enemies the way you want. Shoot and act loudly, or use stealth, sneak and be invisible. Everything is in your hands;
• cheap Metro Exodus price.
Get ready for diversity
Metro Exodus (PC) Steam key game is known not only for its huge variety of weapons but also for crafting mechanics, which let you create your dream gun. The element of survival is also present, hence in the world of Metro Exodus, you have to gather various materials and components, which then can be used in creating new gadgets and weapons. There are a lot of both indoor and outdoor spaces in the game, so you can be prepared for a huge diversity. Will you survive in the harsh, post-apocalyptic environment? It all depends on your stamina, skills, knowledge, and will. We wish you to uncover all the mysteries of Moscow while playing Metro Exodus (PC) Steam key game.
Systémové požadavky
Minimální systémové požadavky
Systémové požadavky

Windows 7/8/10

Procesor

Intel Core i5-4440

Paměť

8 GB RAM

Grafika

GeForce GTX 670 / GeForce GTX 1050 / AMD Radeon HD 7870

Úložný prostor

59 GB

Další poznámky

Requires a 64-bit processor and operating system
Doporučené systémové požadavky
Systémové požadavky

Windows 10

Procesor

Intel Core i7-4770k

Paměť

8 GB RAM

Grafika

GeForce GTX 1070 / GeForce RTX 2060 / AMD RX VEGA 56

Úložný prostor

59 GB

Další poznámky

Requires a 64-bit processor and operating system
Další podrobnosti
Jazyky

Angličtina

Francouzština

Italština

Němčina

Ruština

Španělština

Datum vydání

19. února 2019

Vydavatel

Deep Silver

Vývojáři

4A Games

Pracuje na