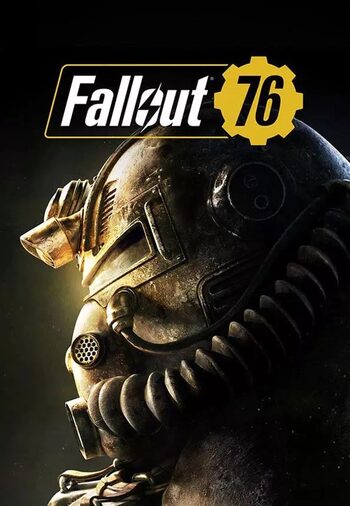 Fallout 76 Steam Key GLOBAL
Sdílejte to s někým, kdo by to chtěl!
GlobálníLze aktivovat v

Spojené státy americké

Zkontrolujte

Digitální klíč

Toto je digitální vydání produktu (CD-KEY)

Okamžité doručení
9.85

Skvělé hodnocení

(10k+ sales in the last 6 months)

9.82

Skvělé hodnocení

(50k+ sales in the last 6 months)
Recenze: 0
Mohlo by se vám také líbit
Popis produktu
Fallout 76
Bethesda Games Studios brings Fallout 76 Steam key, it's yet another post-apocalyptic expansive, open-world journey for you to experience, one entirely different from its predecessors though. Fallout 76 Bethesda key brings you in the earliest post-explosive timeline throughout the series. Your starting grounds are one of the earliest bunkers to be opened: Vault 76, a bunker that opens little more than 20 years after the bombs dropped. 
Fallout 76 - Old & New Threats
This means that the setting you are enrolled in is affected by the aftermath of nuclear devastation but is merely touched by time. Buy Fallout 76 Bethesda key and enter a world with a brighter colour scheme, less muddy and dull environment and buildings that are yet to crumble. Do not cheer too much, as your favourite apocalyptic dwellers like ghouls and death-claws along with all-new monsters, unique to the iconic experience, undoubtedly lurk in the dark.
Fallout 76 - Changes
First time in the series, you'll get to immerse in an entirely multiplayer game, which brings a lot of interesting changes:
• Good ol' V.A.T.S. slow motion feature is no more present, and instead, you are now able to pick and target body parts of your enemies.
• S.P.E.C.I.A.L. character creation process with skill points and perks is back, interesting change with Fallout 76 Bethesda key is that perks are no longer permanent and can be interchanged or toggled on/off at your command.
• C.A.M.P. or Construction and Assembly Mobile Platform are entering the game, which in short lets you construct your base whenever you are online and turn your base into a blueprint whenever you log off. So offline base-raiding is no longer in the options list.
• Crafting is also back, and as the game is entirely online-focused, every single item/material or recipe is up for a trade!
• Hunger and thirst concerns with Fallout 76 Bethesda key, while not as detrimental as in some other games in the series, will still make you monitor your character thoroughly. Various debuffs will occur otherwise. 
Fallout 76 - PvP & PvE
If you are worried that Bethesdas' take on multiplayer will dim the PVE side of the adventure, worry no more, as a solid story mode and various missions are a part of the overall gratifying and expansive gameplay. You will also have an option to switch between PVP and PVE mode whenever you feel like it. The game is constantly being updated, and more features are coming each day. So, if you're into survival and exploration genre, and adore being surrounded by like-minded people, buy Fallout 76 Bethesda Steam key, and start your journey right now!
Systémové požadavky
Minimální systémové požadavky
Systémové požadavky

Windows 7/8.1/10 (64-bit)

Procesor

Intel Core i5-6600k 3.5 GHz /AMD Ryzen 3 1300X 3.5 GHz

Paměť

8 GB RAM

Grafika

NVIDIA GTX 780 3GB /AMD Radeon R9 285 2GB

Síť

Broadband Internet connection

Úložný prostor

80 GB
Doporučené systémové požadavky
Systémové požadavky

Windows 7/8.1/10 (64-bit)

Procesor

Intel Core i7-4790 3.6 GHz /AMD Ryzen 5 1500X 3.5 GHz

Paměť

8 GB RAM

Grafika

NVIDIA GTX 970 4GB /AMD R9 290X 4GB

Síť

Broadband Internet connection

Úložný prostor

80 GB
Další podrobnosti
Jazyky

Angličtina

Francouzština

Italština

Japonština

Němčina

Spanish - Spain

Datum vydání

14. dubna 2020

Vydavatel

Bethesda Softworks

Vývojáři

Bethesda Game Studios

Pracuje na