Empire of Sin Deluxe Pack (DLC) Steam Key GLOBAL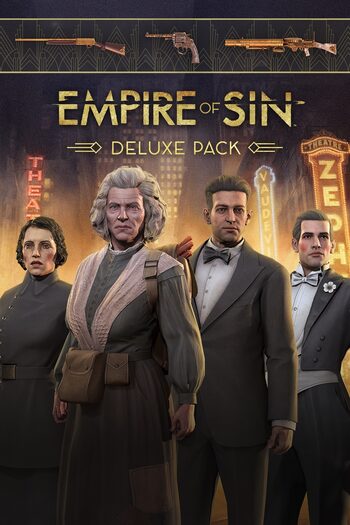 Empire of Sin Deluxe Pack (DLC) Steam Key GLOBAL
Sdílejte to s někým, kdo by to chtěl!
GlobálníLze aktivovat v

Spojené státy americké

Zkontrolujte

Digitální klíč

Toto je digitální vydání produktu (CD-KEY)

Okamžité doručení
Recenze: 0
Mohlo by se vám také líbit
Popis produktu
Empire of Sin Deluxe Pack (DLC) Steam Key
Developed by Romero Games and published by Paradox Interactive, the Empire of Sin game invites you to enter the world of sins set in 1920s Prohibition-era Chicago. The title gives you the chance to assume the role of one of the fourteen real and historically inspired mob bosses such as Al Capone, Stephanie St. Clair, or Goldie Garneau! The underworld is waiting for you to explore it, to witness the charm, the darkness and injustice infecting every corner of the city. Buy Empire of Sin Steam key and embark on an adventure that leaves a mark in your memory as a trip about the humane experience in the cruel life taking place off-stage, just like in a game Mafia: Definitive Edition.
Climb to the top no matter what!
Empire of Sin game delivers a turn-based system for full immersion as you work hard towards establishing and growing your underground empire while competing with other bosses at the same time. Once you assume the role of the underground boss of your choice, you can assign about 16 underlings from 60 potential candidates to manage questionable businesses, such as speakeasies, casinos, and brothels. Not so easy - while they are out there risking their necks, you must protect them from the law and rival mafia gangs, while trying to extend your own influence by applying the cunning and unyielding attitude. Buy Empire of Sin key and dive into the intricate world of underground business to take it all over!
Major Empire of Sin game features
Everybody lives, everybody dies - only the fittest survive. This is the rule that the underworld people live and operate by, and they have been long since consumed by the greatest sins. Empire of Sin Deluxe Pack (DLC) Steam Key opens the door to this world where you must utilize your analytical skills and cunning to climb to the top of this hierarchy! On your climb you are going to enjoy these gameplay features:
• RPG elements. The game is all about carrying out the role you assume, making decisions bearing full responsibility for the consequences, no matter how big or small;
• Turn-based combat. Don't worry, you will get to beat up some enemies in a turn-based combat - be careful and decide accordingly how to define the course of the encounter to escape alive;
• Manage your empire. The underground empire must prosper under your command or you will soon be overtaken by a more competent underground boss;
• Forge your narrative. Create your own story with decisions you make and bonds you establish - it's all about the unique experience;
• Cheap Empire of Sin price
Systémové požadavky
Minimální systémové požadavky
Systémové požadavky

Windows® 8.1 64 bit or Windows® 10 Home 64 bit

Procesor

Intel® Core™ i3-530 or AMD® Phenom™ II X3 720

Paměť

4 GB RAM

Grafika

Nvidia® GeForce™ GTX 460 (1GB) or AMD® Radeon™ R7 250 (2GB), AMD® Radeon™ Vega 11

DirectX

11

Úložný prostor

10 GB
Doporučené systémové požadavky
Systémové požadavky

Windows® 10 Home 64 bit

Procesor

Intel® Core™ i5-4460 or AMD® Ryzen™ 5 3400G

Paměť

8 GB RAM

Grafika

Nvidia® GeForce™ GTX 770 (2GB) or AMD® Radeon™ RX 470 (4GB)

DirectX

11

Úložný prostor

10 GB
Další podrobnosti