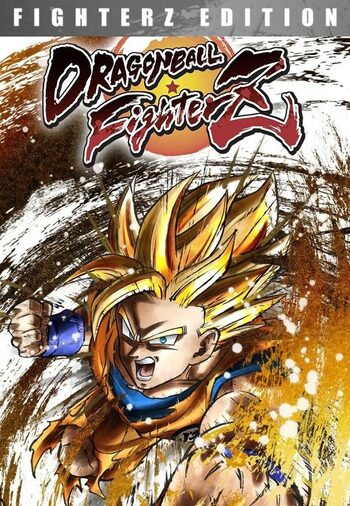 Dragon Ball FighterZ: FighterZ Edition Steam Key GLOBAL
Sdílejte to s někým, kdo by to chtěl!
GlobálníLze aktivovat v

Spojené státy americké

Zkontrolujte

Digitální klíč

Toto je digitální vydání produktu (CD-KEY)

Okamžité doručení
Důležité upozornění:
Product is not available in specified countries: Brunei Darussalam, Cambodia, China, Hong Kong, Indonesia, Republic of Korea, Lao People's Democratic Republic, Malaysia, Philippines, Singapore, Taiwan, Thailand, Timor-Leste, Viet Nam, Macao, Japan and Pakistan.
Recenze: 0
Mohlo by se vám také líbit
Dragon Ball FighterZ: FighterZ Edition
The FighterZ Edition for Dragon Ball FighterZ includes the main game, as well as plenty of DLC content! You will get the FighterZ pass, which includes 8 new characters, such as the incredibly famous Goku, Vegeta, Vegito, and more. You can put your hand on an exclusive story mode as well, which features Android 21.
The Base Game
It is no surprise that pairing up one of the best fighting game developers in the world, the Arc System Networks, with likely the most recognizable anime series in the world, Dragon Ball, has resulted in an absolutely fantastic fighting game – Dragon Ball FighterZ. It's an anime-based fighting game which, honestly, you've been waiting for too long!
Easy to Get Into
The game showcases the beauty in simplicity as all commands are very easy to learn and the same four basic buttons are used to pull off every move on every character, without the need of super-difficult combinations that a lot of other fighting games are fond of. Therefore, anyone with a Dragon Ball FighterZ Steam key is pretty much sure to get the maximum level of satisfaction and explore all of the games' possibilities, no matter their overall experience or skill.
Character Variety
Buy Dragon Ball FighterZ and enjoy a plethora of well-known characters, all ready for battle! From the main protagonists of the series such as Goku or Krillin to the villains that instilled fear into the marrow of your bones when you had your eyes on the TV screen as a child, such as Frieza, Cell, or Buu. It'd be rather strange if you wouldn't want your payback against these!
It's All About the Improvement
The Arcade mode for Dragon Ball FighterZ Steam key challenges the players to improve, as every match is measured by grades, the higher grade you get, the higher up in the match column you go, fighting against more challenging opponents in your next fight. Slip up once, and down to the bottom, you go.
Systémové požadavky
Minimální systémové požadavky
Systémové požadavky

Windows 7/8/10 (64-bit)

Procesor

AMD FX-4350 4.2 GHz / Intel Core i5-3470 3.20 GHz

Paměť

4 GB RAM

Grafika

Radeon HD 6870 1 GB / GeForce GTX 650 Ti 1 GB

Úložný prostor

30 GB
Doporučené systémové požadavky
Systémové požadavky

Windows 7/8/10 (64-bit)

Procesor

AMD Ryzen 5 1400 3.2 GHz / Intel Core i7-3770 3.40 GHz

Paměť

8 GB RAM

Grafika

Radeon HD 7870 2 GB / GeForce GTX 660 2 GB

Úložný prostor

30 GB
Další podrobnosti
Jazyky

Angličtina

Francouzština

Italština

Korejština

Němčina

Polština

Portuguese-Brazil

Ruština

Simplified Chinese

Traditional Chinese

Španělština

Datum vydání

26. ledna 2018

Vydavatel

BANDAI NAMCO Entertainment

Vývojáři

Arc System Works

Pracuje na