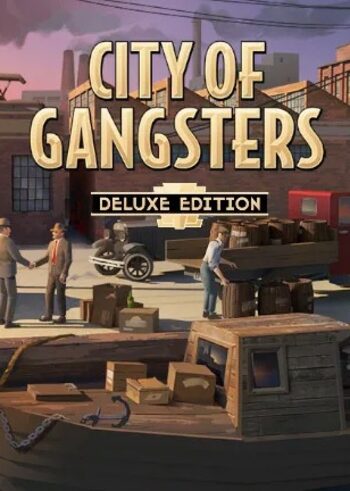 City of Gangsters (Deluxe Edition) Steam Key GLOBAL
Sdílejte to s někým, kdo by to chtěl!
GlobálníLze aktivovat v

Spojené státy americké

Zkontrolujte

Digitální klíč

Toto je digitální vydání produktu (CD-KEY)

Okamžité doručení
Recenze: 0
Mohlo by se vám také líbit
Popis produktu
City of Gangsters (Deluxe Edition) Steam Key
Deluxe Edition includes:
• Original game;
• Cincinnati city map;
• New resources;
• Additional missions;
• New crew skills;
• Cincinnati themed buildings and businesses;
• Unique victory condition.
1920. Due to congressional action, the dawn of Prohibition makes a large portion of the national economy illegal just in one night - but it heralds the birth of something new as well. SomaSim and Kasedo Games present their newest project - City of Gangsters - a management tycoon game where your goal is to build and successfully manage the biggest and most profitable crime syndicate in the city. With the City of Gangsters Steam key, you'll start with just a few cents in your pocket but with a few well-placed speakeasies and connections, you might just make an empire of it all yet. It's all bound to end in 1933 though - will you manage to make your mark on history until then?
City of Gangsters gameplay features
From importing illegal alcohol to dodging nosy feds hot on your trail, there's lots of things to do and manage with the City of Gangsters key. While you're slowly but surely taking over the city, you're bound to enjoy these major features:
• Organize it well. Whether you choose to brew your own booze or just supply the right guys with the right materials, you have to be a few steps ahead - find strategic buildings, occupy them and supply entire neighbourhoods;
• Make connections. With cops constantly sniffing around the city, the people you meet can either make you or break you - expand your social network and make good use of people that owe you favours;
• Gather a crew. To have a business you have to have people - recruit hands that will do delivery runs, protect your territory, and keep everything running smoothly;
• Dodge the cops. Send your crew to harass the wrong person and it might just bite you in the ass in the long run - whether you protect or attack, the people you do these things to remember it all;
• Spread your influence. The more territories you have under your belt, the more wealth you get - it also opens up opportunities to venture into the big leagues;
• Cheap City of Gangsters price.
Limited time to make it right
The Prohibition ends in 1933 - it might seem like you have plenty of time to build the ultimate crime syndicate several times over but don't be foolish. In the City of Gangsters Steam key, the rise to the big leagues is long and arduous since you basically have to start from scratch. With the right crew, connections and strategy you might just make it. Sniff out your competition, protect your assets and leave your mark on history as one of the most profitable illegal businesses to rule the black market.
Systémové požadavky
Minimální systémové požadavky
64bitová podpora

Ano

Systémové požadavky

Windows 10

Procesor

Intel i5/i7/i9 / AMD Ryzen

Paměť

8 GB RAM

Grafika

NVidia GeForce 700, AMD Radeon R5/R7/R9 200, Intel Iris / HD 5000

DirectX

11

Úložný prostor

1 GB
Doporučené systémové požadavky
64bitová podpora

Ano

Systémové požadavky

Windows 10

Procesor

Intel i7/i9 / AMD Ryzen

Paměť

8 GB RAM

Grafika

NVidia GeForce 10, AMD RX

DirectX

11

Úložný prostor

1 GB
Další podrobnosti
Jazyky

Angličtina

Francouzština

Němčina

Ruština

Simplified-Chinese

Spanish - Spain

Datum vydání

9. srpna 2021

Vydavatel

Kasedo Games

Vývojáři

SomaSim

Pracuje na