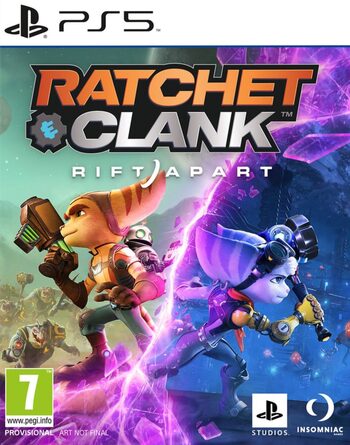 Ratchet & Clank: Rift Apart (PS5) PSN Key EUROPE
Sdílejte to s někým, kdo by to chtěl!
Litujeme, vyprodáno :(
Chcete tuto hru? Až bude produkt opět k dispozici, můžeme vás upozornit e-mailem.
Oznámení
EvropaNelze aktivovat v zemi

Spojené státy americké

Zkontrolujte

Digitální klíč

Toto je digitální vydání produktu (CD-KEY)

Okamžité doručení
Recenze: 0
Mohlo by se vám také líbit
Popis produktu
Ratchet & Clank: Rift Apart (PS5) PSN Key
Buckle up for a grand experience with one of the more well-regarded games in the gaming industry – Ratchet & Clank: Rift Apart key on PSN. Teams of developers from Insomniac Games and publishers of Sony Interactive Entertainment LLC released their final result on 2021-06-11 and launched a great action game that exceeds expectations. Presenting a mixture of classical and ingenious gameplay features, the game is ready to challenge your skills in every way possible. Buy Ratchet & Clank: Rift Apart PSN key, save your funds with a cheaper price, and enrich your days with an engrossing premise and gameplay!
Action genre
If losing is something that motivates you to learn, then Ratchet & Clank: Rift Apart PSN key is for you. As it's an action game, you're bound to experience many defeats while playing it. But once you train your reflexes, you'll undoubtedly experience a great amount of victory. You'll get to excel at reaction time, hand-eye coordination, spatial reasoning, and many other compelling skills needed to win the game. The longer the journey, the more enjoyable the road, right? Don't wait up – become a competent player right now!
Features
Ratchet & Clank: Rift Apart key doesn't just provide a base game that one might put away for good after a while of gaming. This title offers, above all, an engaging experience that challenges your abilities! Let's take a look at some of the features that help achieve this:
• 3D graphics – The world consists of three-dimensional models that can be rotated and viewed from all angles;
• Adventure – You have to explore, interact with characters, solve puzzles, and uncover all the mysteries;
• Cartoon graphics – The environments and models are presented via colourful cartoon-like visuals;
• Exploration – This title emphasizes traversing undiscovered locations and unearthing hidden secrets;
• Family-friendly – The game is appropriate for audiences of all ages;
• Singleplayer – Players can engage with the story of the solo campaign;
• Cheap Ratchet & Clank: Rift Apart price.
If you want some additional content for this title, check out the pre-order bonus DLC!
Další podrobnosti
Jazyky

Angličtina

Francouzština

Italština

Němčina

Polština

Španělština

Datum vydání

11. června 2021

Vydavatel

Sony Interactive Entertainment LLC

Vývojáři

Insomniac Games