Minecraft Dungeons - Windows 10 Store Key GLOBAL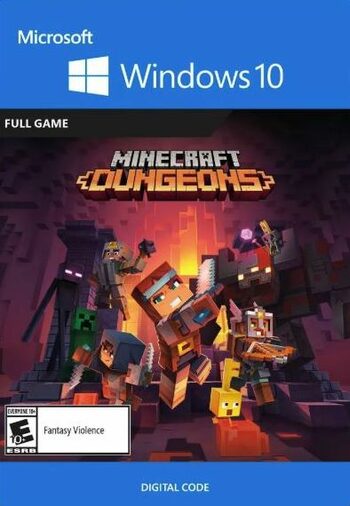 Minecraft Dungeons - Windows 10 Store Key GLOBAL
Sdílejte to s někým, kdo by to chtěl!
Nejlevnější nabídka
Buy as a gift
Receive this product as a gift PDF.
Looking for good deals?
Get them delivered to your inbox
Available at checkout:
GlobálníLze aktivovat v

Spojené státy americké

Digitální klíč

Toto je digitální vydání produktu (CD-KEY)

Okamžité doručení
Důležité upozornění:
Make sure to redeem at: http://account.microsoft.com/billing/redeem
Recenze: 0
Minecraft Dungeons - Windows 10
As you may already know Minecraft is one of the most widely recognized titles of contemporary video game culture. It's characterized by persistent popularity and a myriad of imaginative ways the game can be enjoyed. However, if you seek something different than the regular Minecraft experience – buy Minecraft Dungeons Windows 10 Store key to spice things up! The original developers Mojang and publishers Microsoft Studios are behind the official spin-off Minecraft Dungeons release which takes the series into an all-new direction – prepare for a dungeon crawler action RPG set in the world of Minecraft!
Quest to stop the Arch-Illager
Instead of simply imitating or reinventing the creative sandbox already present in the main game, Minecraft Dungeons offers an original, narrative-driven experience. It all begins with the story of Arch-Illager who gets rejected and exiled by Villagers for his strange appearance. After Arch-Illager discovers a powerful artifact known as the Orb of Dominance he sets out for revenge. Buy Minecraft Dungeons Windows 10 Store key to save the Villagers from the vengeful tyrant and his army of monsters!
Minecraft Dungeons gameplay
You'll control a custom-made character and observe the action from an isometric perspective. Minecraft Dungeons release introduces the core classic RPG elements to the series, such as leveling up, collecting loot, and micromanaging your inventory. The game won't limit you to a rigid class system and instead allow you to discover your own playstyle by experimenting with different long-range and close-range weapons, equipping artifacts that provide special powers, and using item enchantments that give your gear special attributes. There's a multitude of ways to play this game, so once you buy Minecraft Dungeons Windows 10 Store key excellent replay value is more than guaranteed.
Face off against the classic Minecraft monsters!
After all, this is an RPG set in the Minecraft universe, so you can expect to face the threats you've come to know from the original game. Dungeons you'll get to fight in are filled with Minecraft Zombies, Skeletons, Vindicators, exploding Creepers, web-shooting Spiders as well as Evokers who can summon Vexes. All of these enemies can be made stronger through the support of Enchanters but you are not alone in the fight either – buy Minecraft Dungeons Windows 10 Store key and have up to three friends join you in local or online co-op! Experience Minecraft like you never have before!
Systémové požadavky
Minimální systémové požadavky
Systémové požadavky

Windows 10 version 18362.0

Procesor

Core i5 2.8GHz

Paměť

8 GB

Grafika

NVIDIA GeForce GTX 660 or AMD Radeon HD 7870 DX11 GPU

DirectX

11

Úložný prostor

2.71 GB
Další podrobnosti
Jazyky

Angličtina

Francouzština

Italština

Němčina

Španělština

Datum vydání

26. května 2020

Vydavatel

Microsoft Studios

Vývojáři

Mojang/Microsoft Studios