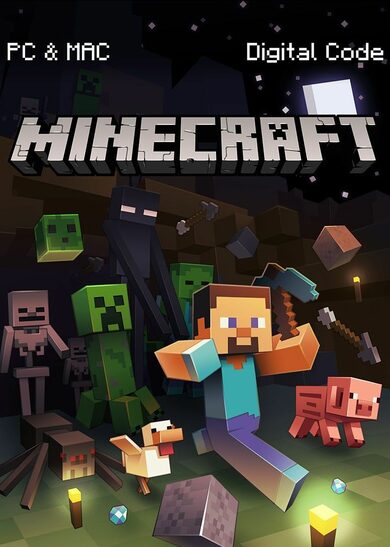 Minecraft: Java Edition Official website Key GLOBAL
A

Eneba é uma plataforma que acomoda vendedores de chaves digitais de jogos verificados e de confiança. Ofertas marcadas com "Eneba Official" são disponibilizadas directamente pela Eneba, não por um vendedor externo na plataforma.

A nossa plataforma dá-te a liberdade de escolha em termos de quem queres comprar o teu jogo. O nivel do serviço e suporte oferecidos são exactamente os mesmos para ofertas da Eneba Official ou de outros vendedores.
Publisher

Oficial
Eneba
|
Publisher
Microsoft Studios
Aviso importante:
Code can be redeemed at : https://minecraft.net/en-us/redeem/minecraft/instructions/
6

outra ofertas
Minecraft: Java Edition key
When we talk about the Minecraft Java Edition key, it's hard to determine where to begin. The sandbox video game was created by Markus Persson and later developed by Mojang. It's reminiscent of 8-bit games, where your creativity is the only limiting factor. Imagine playing with lego — it's pretty much the same with Minecraft, only the blocks from which you build your masterpieces are never-ending!

The World Is Your Playground!

With Minecraft Java Edition key the whole world around you is made out of blocks, reality itself is made out of blocks! Birds, sheep, clouds, and water are all blocks! A never-ending, or rather, the ever-lasting world is full of caves, dungeons, monsters, and other blocky designs! And the best part is that you can collect everything and use anything while building your own designs! Oh, by the way, there are portals to other dimensions too.

It's All About Exploring!

There are countless possibilities of what you can craft with Minecraft Java Edition key in your hand! Combine different materials and create items for construction, survivability, hunt and battles! More so, the game offers numerous different game modes for your ultimate experience! With Minecraft Java Edition key you can immerse in quite a few intricate challenges! All of the given contents below are yours to fully explore in single-player mode:

• Play survival, where you start empty-handed and have to create your own shelter, protection and everything around you from the very scratch.
• Go one step further into extreme survival, where you have a sole life, and with your death, everything created is lost!
• Unleash your talents in Creation mode, where you have instant unlimited resources, immortality, and an ability to fly!
• Ghostly Spectator mode, where you are just a wandering soul, untouchable, unimpactful but equipped with an all witnessing and seeing eye!

Online?

However, modes in solo play are far from the end of what Minecraft game is able to offer! Buy Minecraft Java Edition key and join millions of players online, where what's happening will depend on the realm you decide to join. From battle arenas to limited survival matches, to massive construction worlds, Minecraft key offers it all! Explore, craft, create and enjoy to the maximum!
---
Detalhes do jogo
Acima dos 7 anos

Um jogador

jogadores múltiplos

CO-Ops

Split screen

Third-person

First-person

Virtual reality
---
Gênero
Sistemas operativos:
Idiomas
Afrikaans
Alemão
Azerbaijano
Bielorrusso
Bósnio
Búlgaro
Coreano
Dinamarquês
Eslovaco
Esloveno
Estoniano
Filipino
Finlandês
Francês
Grego
Hebraico
Hindi
Holandês
Icelanding
Inglês
Irlandês
Japonês
Letão
Lituano
Luxemburguês
Macedônio
Mongol
Norueguês
Polaco
Romeno
Russo
Somali
Sueco
Sérvio
Tailandês
Traditional Chinese
Turco
Tâmil
Vietnamita
Árabe
---
Data de lançamento:
November 19, 2013
Publisher
Microsoft Studios
---
Requisitos mínimos de sistema
Requisitos de sistema: Windows 7 and up
Processador: Intel Core i3-3210 3.2 GHz / AMD A8-7600 APU 3.1 GHz or equivalent
Memória: 4 GB RAM
Placa gráfica: Intel HD Graphics 4000
Armazenamento: 1 GB
Requisitos recomendados de sistema
Requisitos de sistema: Windows 10
Processador: Intel Core i5-4690 3.5GHz
Memória: 4 GB RAM
Placa gráfica: GeForce 700 Series or AMD Radeon Rx 200 Series
Armazenamento: 4 GB
Notas adicionais: Broadband Internet connection