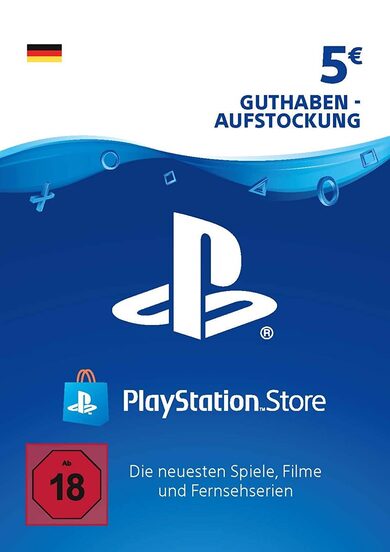 PlayStation Network Card 5 EUR (DE) PSN Key GERMANY
Can't be activated in United States
Works on
Important Notice:
No expiration date. Code is valid only for the GERMANY PSN store. Make sure that your account is registered to GERMANY.
PlayStation Network Card 5 EUR (DE) key
PlayStation Network Gift Card 5 EUR key unlocks 5 EUR that you can add to your PSN account in an instant! It's easy, it's very convenient, and it's extra safe!
Is it not your intention to use it for yourself? That's even better! Purchasing a Gift Card for someone else works like a charm, not to mention the satisfaction you get by seeing those you care for smiling.
When you, or whomever this PlayStation Network Gift Card 5 EUR key is for, will activate the code you'll get the power to acquire stuff. And there are quite a few neat items to acquire on the PSN Store, check out their list and choose your pick!
PSN Store is a vast place with a whole variety of choices available, accordingly, we offer a whole variety of Gift Card options with amounts ranging from 5 EUR to 50 EUR!
Buying this Gift Card doesn't force you to use it in an instant. The offer on sight comes with no expiry date, so once you acquire it, it's yours for eternity!
Don't wait until every PlayStation Network Gift Card 5 EUR key gets sold out, they come and go, don't miss the ride!
---
Release date:
November 29, 2013
Developers
Sony Computer Entertainment
Publisher
Sony Computer Entertainment
---