Fallout 3 GOTY and Fallout: New Vegas - Ultimate Edition (PC) Steam Key GLOBAL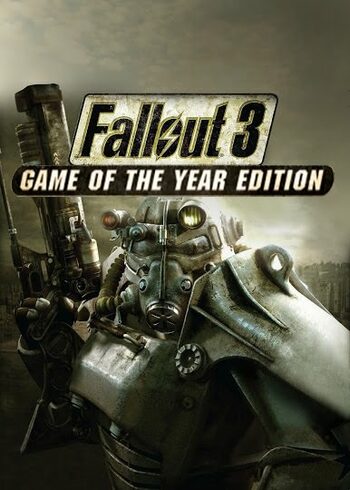 Fallout 3 GOTY and Fallout: New Vegas - Ultimate Edition (PC) Steam Key GLOBAL
Share with someone who would like this!
Küresel

United States of America

içinde etkinleştirilebilir

Check

Dijital anahtar

Bu, ürünün dijital bir sürümüdür (CD-KEY)

Anında teslimat
Oyuncular ayrıca görüntüledi
Değerlendirmeler: 0
Şunlar da hoşunuza gidebilir
Ürün açıklaması
Fallout 3 GOTY and Fallout: New Vegas - Ultimate Edition (PC) Steam Key
Includes:
• Fallout 3 GOTY;
• Fallout: New Vegas base game;
• Fallout: New Vegas - Ultimate Edition.
Ultimate Edition includes:
• All add-on content: Dead Money, Honest Hearts, Old World Blues, and Lonesome Road;
• The latest arsenal of weapons, ammo and recipes with the Courier's Stash;
• Gun Runners Arsenal add-on packs.
Fallout 3 GOTY
Choose and evolve your character in the famous RPG: Fallout 3 GOTY and Fallout: New Vegas - Ultimate Edition (PC) Steam key. Complete with real-time combat and opportunity to explore the open-world this shooter game is still attracting fans. What are you waiting for? Take control of your fate and survive in the dystopian world of Fallout 3.
Fallout 3 GOTY includes:
Operation: Anchorage - Enter a military simulation and fight in the liberation of Anchorage, Alaska from its Chinese Communist invaders.
The Pitt - Travel to the post-apocalyptic remains of Pittsburgh and become embroiled in a conflict between slaves and their Raider masters.
Broken Steel - Increase your level cap to 30, and finish the fight against the Enclave remnants alongside Liberty Prime.
Point Lookout - Embark on a mysterious and open-ended adventure in a huge, murky swampland along the coast of Maryland.
Mothership Zeta - Defy hostile alien abductors and fight your way off of the alien mothership, orbiting miles above the Capital Wasteland.
Fallout New Vegas
Fallout: New Vegas is an action adventure RPG developed by Obsidian Entertainment. Set in a fictional alternate post-apocalyptic timeline, year 2077, where a 2-hour-long nuclear war between China and US has reshaped the surface of earth. The city of Las Vegas is still intact!
You start as a Courier that must transport a package through the Mojave Desert, on your way, you get ambushed, shot in the head, and robbed of the package. You manage to survive and are now determined to make your revenge. From just a courier to a force that will determine who's to control New Vegas and Mojave!
In Fallout 3 GOTY and Fallout: New Vegas - Ultimate Edition (PC) Steam key. you can definitely expect an array of weapons, vast options in crafting, breath-taking open-world map, ingenious skills, unique traits, and a bunch of other features so common to Fallout series!
Sistem gereksinimleri
Minimum sistem gereksinimleri
System requirements

Windows XP / Vista

Processor

2.4 Ghz - Intel Pentium 4

Memory

1 GB RAM - XP / 2 GB RAM - Vista

Graphics

NVIDIA 6800 / ATI X850 256MB
Önerilen sistem gereksinimleri
System requirements

Windows XP / Vista

Processor

Intel Core 2 Duo

Memory

2 GB RAM

Graphics

NVIDIA 8800 / ATI 3800 512 MB
Diğer ayrıntılar
Diller

Almanca

Fransızca

İngilizce

İspanyolca

İtalyan

Çıkış tarihi

28 Ekim 2013

Yayımcı

Bethesda Softworks

Geliştiriciler

Bethesda Game Studios

Şunda çalışır: