Top Up Hay Day Diamonds Global
Share with someone who would like this!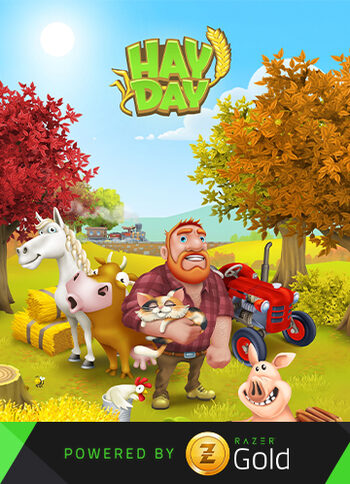 Cashback deal
Top Up Hay Day Diamonds Global
Select denomination*
Authorized partner
Safe & secure payment
Hay Day Diamonds
Unleash the full potential of your Hay Day farm with the exquisite Hay Day diamonds. Immerse yourself in the mesmerizing charm of Hay Day. Expand your farm, unlock exclusive features, and watch your crops flourish like never before. With each Hay Day top up, you'll access a wealth of resources, allowing you to upgrade your barns, silos, and machines to maximize productivity. Top up Hay Day diamonds, spark your imagination, and transform your farm into a work of art. Discover various customization options that allow you to design and decorate your farm to reflect your unique style. Unlock beautiful decorations, charming animals, and captivating landscapes that will leave your visitors in awe. With every Hay Day diamond, your farm becomes a masterpiece that stands out in the vast countryside.
What are Hay Day diamonds?
Hay Day diamonds are a special type of currency that you can find within the popular mobile farming game – Hay Day. When playing the game, your main objective is to manage and expand your virtual farm by planting crops, taking care of animals, and engaging in various farming activities. Hay Day diamonds play a crucial role as a valuable resource in the game, allowing you to speed up tasks, purchase unique items, unlock premium features, and add delightful decorations to your farm. These diamonds are designed to enhance your gaming experience by providing convenience, efficiency, and exciting opportunities. Buy Hay Day diamonds, make faster progress, unlock exclusive content, and create a farm that reflects your personal style!
What can I get when I top up Hay Day?
When you top up Hay Day, you can receive valuable in-game benefits and enhance your gaming experience. Here are some of the things you can get when you top up Hay Day:
• Hay Day Diamonds. With your top-up, you'll unlock Hay Day diamonds. Use them wisely to fast-track your progress, soar to new heights, and create a flourishing farm;
• Speed Up Your Farming Fantasies. With your freshly topped-up diamonds, you can accelerate time in Hay Day. Watch as your crops grow in the blink of an eye, your goods are produced in record time, and your farm flourishes at an extraordinary pace;
• Exclusivity at Your Fingertips. Prepare to be a trendsetter in the Hay Day community. Your top-up grants you access to a trove of exclusive items and decorations to make your farm shine brighter than ever. Unleash your creativity and transform your farm into a mesmerizing oasis with rare and coveted pieces;
• Unlock Hidden Wonders. Explore premium features that lie beyond the reach of ordinary farmers. Engage in thrilling events, unlock special areas, and unveil surprises;
• Support the Hay Day Community. By topping up in Hay Day, you become an invaluable part of a vibrant and passionate community. Your contribution fuels the game's ongoing development, ensuring a continuous stream of updates, new features, and exciting content;
• Cheap Hay Day top up price.
Where can I buy Hay Day top up?
Buy cheap Hay Day diamonds right here at Eneba and embark on a journey filled with endless possibilities. Get ready to unlock boundless opportunities and unleash your true farming potential with a Hay Day diamond top-up. Elevate your gameplay to extraordinary heights and experience the excitement of building the ultimate farm. With just a few simple steps, explore the top-up options tailored to your needs and enjoy a seamless transaction process. Step into Hay Day's captivating world and witness the diamond's power. Unlock extraordinary expansions, customize your farm's appearance, accelerate your progress, and acquire game-changing items. Become the ultimate farming legend with a Hay Day diamond top-up!