Xbox Game Pass Core 6 months Key UNITED STATES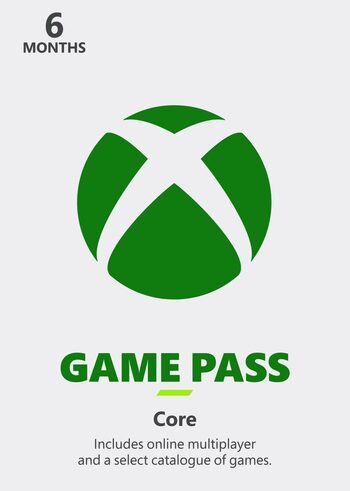 Xbox Game Pass Core 6 months Key UNITED STATES
Share with someone who would like this!
Соединенные ШтатыМожно активировать в

Соединенные Штаты Америки

Цифровой ключ

Это цифровая версия продукта (CD-KEY)

Мгновенная доставка
Важное уведомление:
No expiration date. The product works ONLY in countries that have XBOX LIVE service available: https://www.xbox.com/en-US/live/countries . Make sure that your account and IP is LOCATED in one of the supported countries!
Xbox Game Pass Core 6 months
Say hello to Xbox Game Pass Core, the new era of Xbox gaming. Previously known as Xbox Live Gold, this evolved subscription service provides a richer, more varied, and more affordable gaming experience. Xbox Game Pass Core 6 month key offers not only access to online console multiplayer but also to a carefully curated library of over 25 top-tier console games and various benefits on the Xbox Live marketplace. It's the ideal subscription for any Xbox gamer to maximize their gaming experience and is a superior choice, encompassing all the benefits of Xbox Live Gold and adding so much more to your gaming life.
Xbox Game Pass Core – the key to Online Multiplayer
Venture into the exhilarating world of online multiplayer gaming with Xbox Game Pass Core. This revolutionary service takes multiplayer gaming to the next level, allowing you to connect with friends, family, and fellow gamers across the globe. Whether testing your accuracy in Call of Duty, competing in adrenaline-fueled races in Forza, or embarking on a treasure hunt in Sea of Thieves, the possibilities are endless. Online multiplayer provides an exciting platform to showcase your skills, strategize in real time, and immerse yourself in diverse gaming environments. With Xbox Game Pass Core 6 month key, you can experience the camaraderie, competition, and shared joy that comes with online multiplayer gaming, elevating your gaming experience beyond the confines of your living room.
Enter a Universe of Curated, High-Quality Games
With Xbox Game Pass Core, you can access an ever-evolving universe brimming with high-quality games handpicked to ensure a premium gaming experience. Every 2-6 months, you'll find a fresh array of over 25 console games added to the library, a mix of newly released blockbusters to critically acclaimed titles and undiscovered indie gems. No matter your gaming preferences – whether you're into fast-paced action, strategic puzzles, immersive role-playing, or compelling storylines – Xbox Game Pass Core 6 month key delivers a smorgasbord of games that cater to all tastes and skill levels. This curated library is a testament to the variety and richness of the gaming world, offering an opportunity for you to dive into different genres and experience gaming from a whole new perspective.
Unlock Exclusive Member Benefits
Savor the significant benefits of membership that come packaged with Xbox Game Pass Core's exclusive deals on the Xbox Live network. You'll enjoy impressive discounts on a broad selection of games, add-ons, and even on upcoming releases, helping your gaming budget stretch further while expanding your collection in a smart, economical way. These exclusive member deals are designed not just to offer monetary value but also to provide opportunities to discover new gaming content that you might otherwise overlook due to cost constraints. With these deals, you can continually diversify and enrich your gaming library, exploring new genres, tackling challenging new gameplay elements, and delving into immersive storylines.
How to redeem Xbox Game Pass Core?
You can easily redeem your Xbox Game Pass Core 6 month key on your Console or PC. Just follow these guides:
On Xbox Console:
• On your console's Home Page, find and select the Store tab;
• On the left side, select Redeem option;
• Type in your unique 25-character code;
• Confirm your code.
Redeem on PC or mobile:
• Go to redeem.microsoft.com;
• Log in to your account;
• Enter your unique 25-character code.
embership card 6 months key and gain access to the full set of features of the Xbox Live service network! If you happen to be one of the Xbox consoles owners, you probably are familiar with the free Xbox Live service meant for gaming and content distribution. However, without the Xbox Live Gold subscription, you have access only to a fraction of all the awesome features this service can provide! Make a worthy investment and explore everything you've been missing!
Play with friends online!
One of the best things Xbox Live Gold membership card 6 months Xbox key will provide you with is access to multiplayer modes of your favourite Xbox games! In order to play online, Xbox Live Gold is mandatory no matter what games we're talking about – everything from first-person shooters to sports games needs Gold to play online. Not to worry though, as this investment will pay off with an opportunity to test yourself against others in an advanced matchmaking system. The best part? The benefits don't end there.
Free Xbox games each month
By purchasing the Xbox Live Gold membership card 6 months Xbox key you can download from up to four Xbox video games completely free of charge since gamers with Xbox Gold membership receive a couple of gems each month! Not only that – you'll also get to the games you'll receive even after your subscription ends. The alluring benefits of Xbox Live Gold code are immense, so don't sleep on the opportunity to enhance your Xbox gaming experience!
Take care of your gaming needs cheaper!
As for the remaining games, Microsoft Xbox subscription card owners get exclusive discounts on the digital Xbox Live marketplace, therefore you can buy games and DLC significantly cheaper, among dozens of other things: TV shows, movies, music, apps, and services. If the Xbox Live Gold membership card 6 months key is not enough, keep in mind that we offer a rich selection Xbox Live memberships, differing in their time-period and pricing - plenty to choose from! Buy Xbox Live Gold cheaper to enjoy the enthralling advantages the service comes with, so you can utilize the full potential of Xbox consoles!
Two Ways to Activate
Okay, so you've bought the Xbox Live Card (or any Xbox card), what's next? How to receive all the above-mentioned benefits? How to activate this key? What's this code all about? Look no further because you're fully covered! Here are the two most convenient ways on how you can activate your prepaid Xbox Live Gold codes!
If you are using an Xbox One console to activate Xbox Live Gold membership card 6 months key:
• When on the Home screen, go to the Store selection;
• Find Categories selection, choose Games option;
• Choose the Use a Code feature (or shout out at your controller – Xbox, use code!);
• Sign in if prompted;
• Your prepaid key will either come in the form of a QR code, or the 25-character code;
• In the case of QR code hold it to your Kinect sensor. In the case of the 25-character code, simply enter it by hand.
If you want to activate your Xbox Live Gold membership card 6 months key via Web Browser:
• While in a browser, select the Redeem code feature;
• Click on Sign In option;
• Log into your Microsoft account;
• Click on Redeem option;
• Enter the 25-character code and click Confirm;
• Enjoy your purchase!
Другие детали
Дата выпуска

3 сентября 2013 г.

Издатель

Microsoft Studios

Разработчики

Microsoft Studios