Middle-earth: Shadow of War (Definitive Edition) Steam Key GLOBAL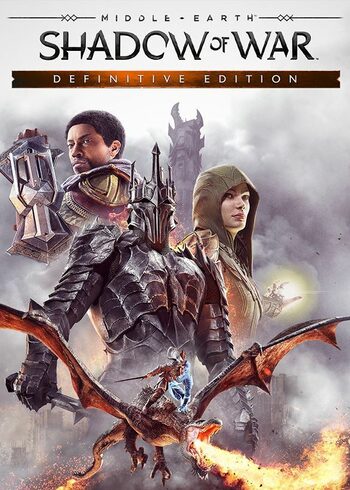 Middle-earth: Shadow of War (Definitive Edition) Steam Key GLOBAL
Share with someone who would like this!
Cheapest offer
Looking for good deals?
Get them delivered to your inbox
Available at checkout:
ГлобальныйМожно активировать в

Соединенные Штаты Америки

Цифровой ключ

Это цифровая версия продукта (CD-KEY)

Мгновенная доставка
Обзоры: 0
Описание продукта
Middle-earth: Shadow of War (Definitive Edition)
Middle-earth: Shadow of War (Definitive Edition) offers the original Middle-earth: Shadow of War action RPG along with all downloadable content! With the Definitive Edition you'll get new Orc Tribe, new missions, enemies, followers, abilities, legendary gear set, story campaign, new playable character and much more!
Middle-earth: Shadow of War Definitive Edition includes:
• The base game: Middle-earth: Shadow of War
• Desolation of Mordor Story Expansion
• Blade of Galadriel Story Expansion
• Slaughter Tribe Nemesis Expansion
• Outlaw Tribe Nemesis Expansion
Enjoy the vast LotR universe as a lone ranger Talion, form an Orc army and command it to destroy Sauron from within! In this game, nothing is ever forgotten! Due to the Nemesis System. The in-game AI remembers every battle made, so the orcs that you fight against and lose, only grow stronger and more aware of your tactics with each unsuccessful attempt!
The orcs can go up the ranks and become lieutenants and generals. They have their own personalities, traits, and weaknesses that you must consider during each encounter! The world is shaped by your actions and decisions, thus it's a unique experience that will tremendously differ from player to player!
Can't get enough of Lord of the Rings? Then this Middle Earth role-playing adventure game is just for you. Recruit your army, follow carefully curated stories and conquer your enemies, in this case, it's the Dark Lord Sauron and his minions. The RPG Middle-Earth: Shadow of War will let you fully experience what it's like to live and plan conquests in Middle-Earth. Massive open-world, hours of immersive adventures and unforgettable experiences to share with characters are all yours to have if you buy Middle-Earth: Shadow of War Steam key!
The story of Shadow of War
Middle-Earth: Shadow of War key delivers a massive single-player campaign in a huge open-world. The title continues the narrative of the previous, which is based on J. R. R. Tolkien's legendary series and set in between the events of Peter Jackson's The Hobbit and The Lord of the Rings film trilogies, from which the game draws inspiration. Abductions, elfen spirits, allies and foes, intrigues, betrayals, hope and much more awaits you who dares to enter the fictional world of Middle-earth: Shadow of War. Do you have what it takes to confront the full power of the Dark Lord Sauron and his Ringwraiths?
Extensive gameplay
If there is anything that Middle-Earth: Shadow of War can boast about, it's the swashbuckling narrative and its massive gameplay experience. Once you start the single-player campaign, you are signing up for over 50 hours of gameplay made up of about 60 story-based quests. To face the Dark Lord, you must have to demonstrate a lot of skill fighting the battles against his minions. Sometimes you wade into the thick of it with a sword and other times you make a grand entrance riding a fire-breathing dragon into the battle instead. That's just a glimpse of what you are able to do once you buy Middle-Earth: Shadow of War key!
Major gameplay features
Middle-Earth: Shadow of War offers an immersive gaming experience for those who love role-playing games rich with story and a massive world to explore.
• Open-world. Explore the wide world of Middle-Earth that is facing the threat of the Dark Lord Sauron and his Ringwraiths;
• Riveting story. The single-player campaign invites you to embark on an adventure following the events of the beloved franchise that perfectly reflects the style of J. R. R. Tolkien;
• Multidimensional characters. On your way to defeat the great evil, you will meet many allies and foes that are quite complex characters, motivated by their own values and ulterior motives;
• Cheaper Middle-Earth: Shadow of War price.
If you want some additional content for this title, check out the pre-order bonus DLC!
Системные требования
Минимальные системные требования
Системные требования

Windows 7 SP1 Platm

Процессор

AMD FX-4350, 4.2 GHz / Intel Core i5-2300, 2.80 GHz

Память

6 GB RAM

Графика

AMD HD 7870, 2 GB / NVIDIA GTX 660, 2 GB

Накопитель

70 GB
Рекомендуемые системные требования
Системные требования

Windows 10 Creators

Процессор

AMD FX-8350, 4.0 GHz / Intel Core i7-3770, 3.4 GHz

Память

12 GB

Графика

AMD RX 480, 4 GB or RX580, 4GB / NVIDIA GTX 970, 4GB or GTX1060, 6GB

Накопитель

70 GB
Другие детали
Языки

Portuguese - Brasil

Английский

Арабский

Испанский

Итальянский

Китайский

Корейский

Немецкий

Польский

Русский

Французский

Японский

Дата выпуска

28 августа 2018 г.

Издатель

Warner Bros. Interactive Entertainment

Разработчики

Monolith Productions

Работает на