Hearts of Iron IV: Cadet Edition Steam Key GLOBAL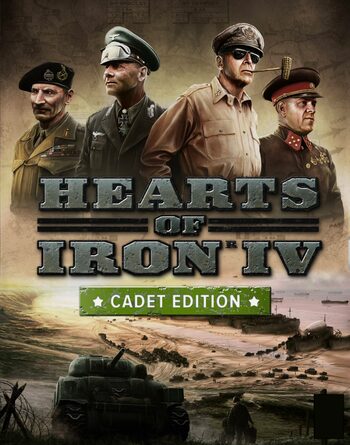 Hearts of Iron IV: Cadet Edition Steam Key GLOBAL
Share with someone who would like this!
ГлобальныйМожно активировать в

Соединенные Штаты Америки

Check

Цифровой ключ

Это цифровая версия продукта (CD-KEY)

Мгновенная доставка
Важное уведомление:
Product CANNOT be activated in Germany. Includes base game + forum Icon + wallpapers.
Обзоры: 0
Вам также может понравиться
Описание продукта
Hearts of Iron IV: Cadet Edition (PC) Steam Key
Developed and published by Paradox Interactive Studio, the edition expands on the already rich repertoire of the Hearts of Iron IV PC. The innovative strategy game entrusts you with the mission of leading your nation towards a victorious and bright future, however, to reach that vision, you must deal with the most brutal conflict in the history of mankind - World War II. Buy Hearts of Iron IV: Cadet Edition key to negotiate, outsmart, plan your divisions, deal with the enemy front lines, and do everything within your power to achieve glory! Do you have the guts to deal with realistically recreated warfare experiences?
Hearts of Iron IV: Cadet Edition game features
Hearts of Iron IV: Cadet Edition PC key secures its place as one of the most innovative titles in the Hearts of Iron franchise, known for engaging strategy gameplay that revolves around authentic historical representation. You can enjoy this set of features and more:
• Warfare simulation. An exceedingly detailed warfare simulation is based on real-time strategy gameplay that involves war taking place on the land, sea, and in the air;
• Advanced diplomacy system. In this war, it's only about brutal force and outmatching the enemy with the number of soldiers or whose warfare equipment is more advanced - you must also negotiate and use diplomatic means to secure alliances and manipulate the outcome of the war;
• Choose any nation. You can assume the role of a leader of any nation that participated in WWII: USA, United Kingdom, or Nazi Germany at your service;
• Multiplayer. Participate in the intense cooperative multiplayer that supports up to 32 players;
•Cheaper Hearts of Iron IV: Cadet Edition price.
A vibrant warfare simulation
In Cadet Edition, the campaign can be started either in the year 1936 or 1939 and may be continued after the events of war but no longer than 1950. During that time you can rework history - manipulate the events of the war, determine the outcome, work through scenarios, and execute your cunning plans by masking it with diplomacy. Buy Hearts of Iron IV: Cadet Edition Steam key to wage war in an authentically designed simulation where you must utilize your analytical skills to win because brute force is not all there is to war!
Системные требования
Минимальные системные требования
Системные требования

Windows 7 64-bit

Процессор

Intel Core 2 Quad Q9400 @ 2.66 GHz / AMD Athlon II X4 650 @ 3.20 GHz

Память

4 GB RAM

Графика

ATI Radeon HD 5850 or NVIDIA GeForce GTX470 1GB VRAM

Хранилище

2 GB
Рекомендуемые системные требования
Системные требования

Windows 7 64-bit

Процессор

Intel Core i5 750 @ 2.66 GHz / AMD Phenom II X4 955 @ 3.20 GHz

Память

4 GB RAM

Графика

ATI Radeon HD 6950 or NVIDIA GeForce GTX570 2GB VRAM

Хранилище

2 GB
Другие детали
Языки

Portuguese-Brazil

Английский

Испанский

Немецкий

Польский

Русский

Французский

Дата выпуска

6 июня 2016 г.

Издатель

Paradox Interactive

Разработчики

Paradox Development Studio

Работает на