Dungeons 3 - Complete Collection Steam Key GLOBAL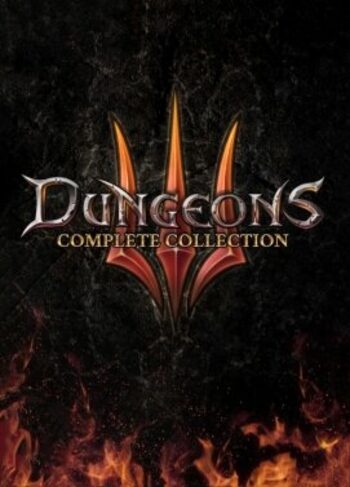 Dungeons 3 - Complete Collection Steam Key GLOBAL
Share with someone who would like this!
ГлобальныйМожно активировать в

Соединенные Штаты Америки

Check

Цифровой ключ

Это цифровая версия продукта (CD-KEY)

Мгновенная доставка
Обзоры: 0
Вам также может понравиться
Описание продукта
Dungeons 3 - Complete Collection
Remember Dungeons 3, a strategy game that stimulates not only the mind, but the senses too, as you immerse yourself in the gameplay? Kalypso Media and Realmforge Studios present us with a treat – a full collection of Dungeons 3 game content. The adventurous title has provided hours of engaging gameplay over the years, and now the fans of the game can get their hands on the remarkable Dungeons 3 – Complete Collection!
An adventurous tale
Those who played the previous installments of the Dungeons series along with those who are joining only now will have an appealing experience full of adventures and a sense of wonder. Now, your role is not exactly what we would call heroic. In the story campaign, you will lurk around, setting up cunning traps for adventurers, recruiting monsters to carry out your evil plans and executing many more nefarious schemes of yours. Conquer the open-world of the Dungeons 3 – Complete Collection game and spread your evil influence across the land with an unyielding determination!
Plenty of content
The newest release in the series contains enough material to ensure not only numerous hours of gameplay, but also provides an entertaining content filled with lore and the plot making for a great story. The gameplay can be enjoyed individually in a single player, or with some company in the multiplayer mode. Dungeons 3 – Complete Collection pack also offers enthralling content for skirmish modes, and above all, a complete history of the whole series along with 7 expansion packs!
Complete Collection features
Certainly, the full Dungeons 3 content pack offers an immersive gameplay, but let's take a look at the definitive features you can find in the collection:
• An enthralling story where you venture in the open-world full of unforgettable and multidimensional characters;
• Expansion packs like Once Upon a Time, Lord of the Kings, An Unexpected DLC, Evil of the Caribbean, Clash of Gods, Famous Last Words and A Multitude of Maps, along with a new map and all the content updates up to date;
• The Dungeons narrator, beloved by the fans, is back with his voice, telling us about the epic tale of the legacy of Dungeons;
• Over 50 quests along with randomly generated maps, more monsters as well as special abilities;
• Co-op mode, competitive multiplayer and the comprehensive story campaign;
• Cheap Dungeons 3 price.
With all that the collection has to offer, there is no reason to hesitate – buy Dungeons 3 Collection today for the best price and indulge in the spectacular gameplay!
Системные требования
Минимальные системные требования
Системные требования

Windows 7 64-bit

Процессор

Intel Quad Core 2.8 GHz (i7 900) or 3.5 GHz AMD (FX 6000)

Память

4 GB RAM

Графика

AMD/NVIDIA dedicated graphic, 1024MB VRAM DirectX 11 Shader Model 5.0 (AMD Radeon HD 7000 NVIDIA GeForce GTX 600)

Хранилище

5 GB
Рекомендуемые системные требования
Системные требования

Windows 10 64-bit

Процессор

Quad core 3.5 GHz (Intel i5 4000 Series / AMD Ryzen 3 Series)

Память

8 GB RAM

Графика

AMD/NVIDIA dedicated graphic, 3072MB VRAM DirectX 11 Shader Model 5.0 (AMD R9 300 Series NVIDIA GeForce GTX 900 Series)

Хранилище

5 GB
Другие детали
Языки

Английский

Испанский

Итальянский

Немецкий

Французский

Дата выпуска

26 июня 2020 г.

Издатель

Kalypso Media

Разработчики

Realmforge Studios

Работает на