Dead by Daylight - Ash vs Evil Dead (DLC) Steam Key GLOBAL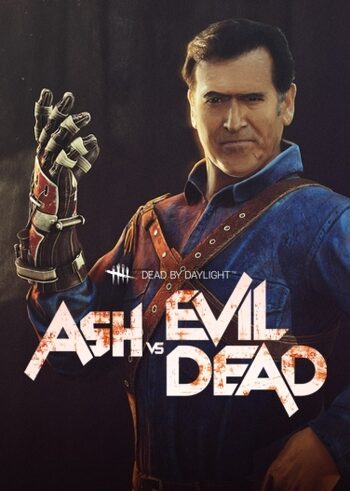 Dead by Daylight - Ash vs Evil Dead (DLC) Steam Key GLOBAL
Share with someone who would like this!
ГлобальныйМожно активировать в

Соединенные Штаты Америки

Check

Цифровой ключ

Это цифровая версия продукта (CD-KEY)

Мгновенная доставка
Обзоры: 0
Вам также может понравиться
Dead by Daylight - Ash vs Evil Dead (DLC) Steam Key
The Ash vs Evil Dead DLC includes:
• A new Survivor - Ash Williams.
Face the threat of darkness head-on as the saviour of humanity with the new Dead by Daylight Chapter! Behaviour Digital Inc. proudly presents the Ash vs Evil Dead DLC, where players get to embody the ingenious Ash Williams, capable of evading death through skill, wit and the right tools. After facing the devastation the Book of the Dead brought upon him and his friends, now our Survivor, years later, stalks the dead at night in search of an escape. Buy Dead by Daylight: Ash vs Evil Dead DLC Steam key, buckle up and evade the inevitable!
Ash vs Evil Dead DLC features
Face all the various Killers as a new Survivor with the Dead by Daylight: Ash vs Evil Dead key! Here's what you can expect from this new character:
• Flip-Flop. When you're picked up by the Killer whilst in the dying state, 50% of your recovery progression is converted into wiggle progression. This adds up to a maximum of 40/45/50% of total progression;
• Buckle Up. Up to a distance of 48 meters, you can determine the recovery progress of a dying Survivor by the intensity of their aura. When you heal them, both of you see The Killer's aura for some time;
• Mettle of Man. Get hit by a Killer's basic attack and the perk activates - the next occurrence that would put you into the Dying state is ignored but once you regain full health, your aura will be revealed to the Killer when you're further from them than 12/14/16 metres. It will only deactivate once you're put into the Dying state and it also increases the chances of you becoming the Killer's obsession;
• Cheap Dead by Daylight - Ash vs Evil Dead price.
A survival horror experience like no other
Dead by Daylight is a survival horror multiplayer co-op game developed by Behaviour Digital Inc. Here, you immerse yourself into the thrilling gameplay of hide-and-seek with the main prize being your life! Play either as one of the Survivors struggling to escape the horrors of being chased by a frenzied madman or step into the Killer's role and eliminate your prey one by one. Avoiding the killer in Dead by Daylight - Ash vs Evil Dead Steam key is no easy task, and playing as a lone-wolf can lead to your demise quite quickly. Each map is procedurally generated, the Killers and Survivors have their own progression systems and the horrors of the Killing Grounds are never-ending!
Your Dead by Daylight experience does not need to be limited by just this DLC, so feel free to explore the Dead by Daylight DLC collection and pick out the most interesting add-ons at cheap prices.
Системные требования
Минимальные системные требования
Системные требования

64-bit (Windows 7, Windows 8.1)

Процессор

Intel Core i3-4170 or AMD FX-8120

Память

8 GB RAM

Графика

DX11 GeForce GTX 460 1GB or AMD HD 6850 1GB

DirectX

11

Сеть

Broadband Internet connection

Хранилище

25 GB

Дополнительные записи

With these requirements, it is recommended that the game is played on Low quality settings.
Рекомендуемые системные требования
Системные требования

64-bit (Windows 7, Windows 8.1)

Процессор

Intel Core i3-4170 or AMD FX-8300

Память

8 GB RAM

Графика

DX11 GeForce 760 or AMD HD 8800 4GB RAM

DirectX

11

Сеть

Broadband Internet connection

Хранилище

25 GB
Другие детали
Языки

Английский

Испанский

Китайский

Корейский

Немецкий

Польский

Русский

Тайский

Французский

Японский

Дата выпуска

12 июня 2018 г.

Издатель

Behaviour Digital Inc.

Разработчики

Behaviour Digital Inc.

Работает на