Barotrauma Steam Key GLOBAL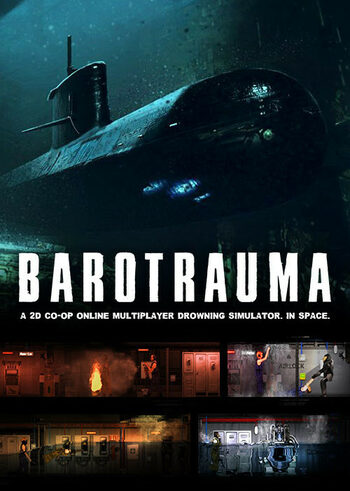 Barotrauma Steam Key GLOBAL
Share with someone who would like this!
ГлобальныйМожно активировать в

Соединенные Штаты Америки

Check

Цифровой ключ

Это цифровая версия продукта (CD-KEY)

Мгновенная доставка
9.91

Рейтинг Превосходно

(150k+ sales in the last 6 months)
Обзоры: 0
Вам также может понравиться
Описание продукта
Barotrauma
Interactivity is one aspect of video games that make them an engrossing form of digital entertainment, and Barotrauma Steam Key GLOBAL key on Steam is no exception! Developed by no other than FakeFish / Undertow Games and published by Daedalic Entertainment on 2019-06-05, the game boasts high-quality gameplay enhanced by a set of engaging features to provide a fun and challenging experience for you. If you want to try something new in the horizon of strategy video games, Barotrauma Steam Key GLOBAL key is a splendid choice as it represents the essence of the genre and also adds a fresh take on it. Buy Barotrauma Steam Key GLOBAL Steam key cheaper and begin your adventurous time today!
Strategy genre
Emphasising strategic, tactical, and sometimes logistical challenges, Barotrauma Steam Key GLOBAL Steam key, like any other survival game, often captivates its players. The nature of the game requires one to plan a series of actions against opponents to achieve victory. Having an interesting learning curve, the game attracts players to play, think, learn from their mistakes, and, step by step, get closer to winning. It's an enthralling experience for those who want to train their mind a little and feel great once they do achieve their goals.
Features
Curious about what awaits you once you buy Barotrauma Steam Key GLOBAL key? Here are some gameplay elements and innovations that will hook you in right from the start:
• co-op – This feature allows you to play the game together with friends;
• difficult – The gameplay is intentionally designed to be hard from the start to challenge players;
• sci-fi setting – You enter the technologically advanced future of humanity full of gadgets, space travel, and more;
• simulator – You can do things that you can't do in the real world via simulations;
• survival – You have to use resources wisely and utilize various strategies to stay alive as long as possible;
• violent – The game contains various depictions of torture, injuries, and gruesome deaths;
cheap Barotrauma key.
Системные требования
Минимальные системные требования
Системные требования

Windows 7/8.1/10 (64-bit)

Процессор

2.0 GHz

Память

2 GB RAM

Графика

128 MB, Shader Model 2.0+

Хранилище

350 MB

Дополнительные записи

64-bit operating system is required
Рекомендуемые системные требования
Системные требования

Windows 7/8.1/10 (64-bit)

Процессор

3.0 GHz

Память

4 GB RAM

Графика

256 MB, Shader Model 2.0+

Хранилище

350 MB

Дополнительные записи

64-bit operating system is required
Другие детали