Saks Fifth Avenue Gift Card 500 USD Key UNITED STATES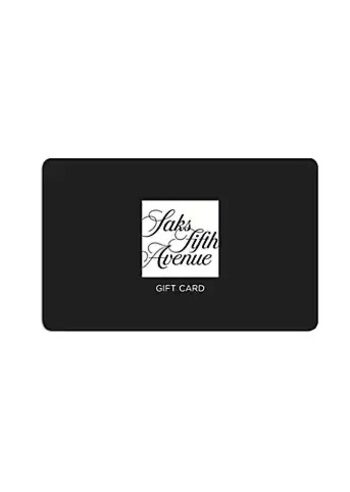 Saks Fifth Avenue Gift Card 500 USD Key UNITED STATES
Share with someone who would like this!
Cheapest offer
Buy as a gift
Receive this product as a gift PDF.
Looking for good deals?
Get them delivered to your inbox
Available at checkout:
Соединенные ШтатыМожно активировать в

Соединенные Штаты Америки

Цифровой ключ

Это цифровая версия продукта (CD-KEY)

Мгновенная доставка
Описание продукта
Saks Fifth Avenue Gift Card 500 USD Key
Do you want to look fashionable? Of course, you do! There are tons of amazing fashion e-shops on the internet, offering various things, including the most fashionable and cutting-edge apparel, shoes, beauty products like cosmetics, accessories for men, women, and children with a selection of top brand names, decorations for your home, items made by well-known designers, and even gifts! Yes, fashion e-shops offer gift cards that are essential if you want to look amazing and at the same time save some precious money! Here, in the Eneba marketplace, you can find the best deals on fashion e-shops for a cheaper price. It's time to look beautiful and to make your home anew, and make every day like a holiday! Don't hesitate and buy Saks Fifth Avenue 500 USD gift card key at a cheaper price today! It's worth it!
What can I use the Saks Fifth Avenue gift card for?
Take a look at these features of Saks Fifth Avenue that will please your every need:
• Women's and men's clothes. Dresses, formal and evening apparel, jeans, jumpsuits, pants, activewear, sportscoats, casual shirts, jackets, shoes, coats, jeans, pants, sweaters, and other fashionable clothes for every woman and man;
• Children clothes. For every child of various ages, including little kids, the Saks Fifth Avenue offers activewear, bottoms, dresses, shirts, pants, swimwear, and so much more!
• Designer clothes. Handbags, jewelry, and beauty products for women, men, and kids from well-known designers, such as Alexander McQueen, Dolce Vita, Hugo Boss, and many more;
• Handbags, jewelry, and accessories. Backpacks, belt bags, bucket bags, evening bags, bracelets, earrings, necklaces, rings, wallets, belts, and many more variations of bags for women, men, and kids;
• Beauty shop. Skincare, body care, makeup, hair, and nail care, as well as candles and home scents from the best brands;
• Home decor. Fashionable things for bedrooms, baths, kitchens, as well as travel accessories, and home decor things, including lighting, furniture, art, seasonal decor, and much more for your home;
• Cheap prices of Saks Fifth Avenue gift cards!
It's always better with Saks Fifth Avenue gift card!
Keep in mind that with Saks Fifth Avenue 500 USD gift card key you will get the best service since they improve it all the time. Get ready for unique features such as mobile shopping and new retail partnerships. With Saks Fifth Avenue gift card you can be sure to get the best shopping experience which is fresh, relevant, and inspiring. It's always easy to shop for clothes, home decor, and other fashionable things online and with this gift card, you will get all that and even more! Get ready for a cheap Saks Fifth Avenue 500 USD gift card price with Eneba!
How to activate the Saks Fifth Avenue gift card?
You can use your gift card at any Saks Fifth Avenue store nationwide and at www.saksfifthavenue.com or www.saksoff500th.com. Please note that most GiftCards.com merchant eGift cards can be used at the merchant's retail location and online at the merchant's website.
Follow these easy steps in order to activate a Saks Fifth Avenue gift card:
• To activate a gift card online at saks.com or saksoff500th.com, choose "Pay by gift card" and enter the card number and PIN at checkout;
• To redeem your eGift Card from a mobile device, display the gift card number and associated PIN (if applicable) to the cashier at the time of purchase.
Другие детали
Дата выпуска

17 июня 2016 г.