The Sims 4: High School Years (DLC) (PC) Origin Key GLOBAL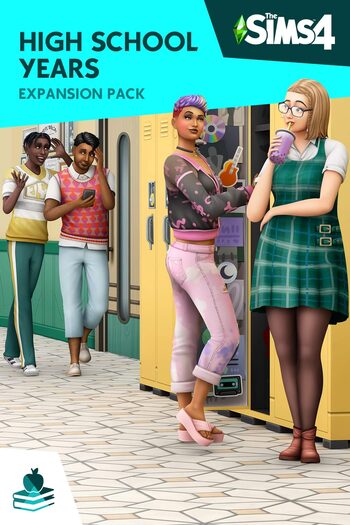 The Sims 4: High School Years (DLC) (PC) Origin Key GLOBAL
ГлобальныйМожно активировать в

Соединенные Штаты Америки

Цифровой ключ

Это цифровая версия продукта (CD-KEY)

Мгновенная доставка
Обзоры: 0
Вам также может понравиться
Описание продукта
The Sims 4: High School Years (DLC) (PC) Origin Key
The Sims 4: High School Years (DLC) pays attention to school life and lets you control teen sims in schools. With this DLC, you will be able to immerse yourself in science, control teen sims in schools, participate in lectures, get to know your classmates, and spend your teenage years nicely. It doesn't matter if you go to school now, or if this activity is long forgotten for you, it's always nice to come back to school together with your loved sims. Maybe you will help them to learn something new? Or maybe you will learn something yourself? If you are interested, then don't wait any longer and jump into amazing experiences together with The Sims 4: High School Years (DLC) (PC) Origin key today!
Sims 4 brings the fourth sequel to one of the most favorite and beloved real-time, real-life simulations ever! Create and customize your own character, build a house, find a job — make a career, surround yourself with loving family and neighbors, involve in numerous daily activities, or do whatever else you can think of, it's The Sims 4 after all.
Stretch, Bend and Drag customization techniques
One of the Sims 4: High School Years Origin key characteristics as to why the Sims series has always been so fun, is its character creation menu and Sims 4 is no exception. The new Create-a-Sim tool allows you to basically become a sculptor and bend your Sim in almost any physical form and shape: you can click, drag, and manually tweak almost every aspect of your creation.
House customization options are as vast as it gets or at least as vast as the Create-a-Sim tool. Not only can you customize every corner of your household, but you can also pick from already premade components or even better: download a pre-made blueprint from online storage, where players from all over the globe put their ideas into practice. Raise or lower the very foundations of your house or stretch and drag the edges of your walls if you lack some space.
Do Sims feel something?
They do now! And they feel not just something, with The Sims 4: High School Years Origin key, they feel a lot. Traits and aspirations are back, and while they are fun and useful, this isn't about them. The latest edition presents a pack of emotions that now are the key factors in control whenever you do not interfere. There are many triggers to put your Sim in a certain emotional state, and these will have wide-range implications over the course of your game.
Sims are developing in more than one way!
Last but not least, buy The Sims 4: High School Years Origin key and enjoy the added elements of multitasking abilities. No longer will your Sims awkwardly drink coffee and only after the cup is empty will start communing. You will feel this much-desired mechanic right off the bat, and it makes the overall gameplay much smoother and more coherent.
Системные требования
Минимальные системные требования
64-битная поддержка

Да

Системные требования

Windows 7 (SP1), Windows 8, Windows 8.1, or Windows 10

Процессор

1.8 GHz Intel Core 2 Duo, AMD Athlon 64 Dual-Core 4000+

Память

4 GB RAM

Графика

128 MB; NVIDIA GeForce 6600, ATI Radeon X1300, Intel GMA X4500

Хранилище

15 GB
Другие детали