Grab Gift Card 65 MYR Key MALAYSIA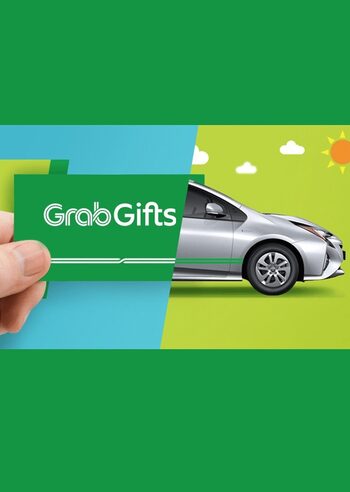 Grab Gift Card 65 MYR Key MALAYSIA
Share with someone who would like this!
Простите, уже продано :(
Хотите эту игру? Мы можем уведомить вас по электронной почте, когда этот продукт снова станет доступен.
Уведомление
Важное уведомление:
Code is valid for 180 days.
Описание продукта
Grab Gift Card 65 MYR MALAYSIA
Are you tired of cooking the same meals at home every day? Do you long to explore the world through different cuisines but find yourself limited by your culinary skills? Well, say goodbye to your kitchen and hello to Grab! With Grab, you can indulge in a vast selection of delicious meals from different cuisines without ever leaving your house. From Italian to Thai to Mexican, you can explore the world through your taste buds with the click of a button. Whether you crave authentic Japanese sushi, a cheesy pizza, or a juicy steak, get all your meals delivered straight to your doorstep. And if you're looking for a cheaper way to explore the world, one dish at a time Grab gift card is the perfect solution for you! And if you want to feel like a true chef, GrabMart delivers groceries right to your doorstep. But Grab isn't about food delivery only. Need a ride? Open the app and hail a taxi, car, or motorbike. Buy Grab 65 MYR gift card key, and start exploring thousands of cuisines from local restaurants, make getting around easier, or stock your pantry without leaving your house!
What can I use the Grab gift card for?
Take a look at these features of Grab that will please your hunger:
• Perfect for business deliveries. Make your workmates happy, motivate your employees and remote workers with fast deliveries of food from various restaurants;
• Meals for any occasion. If you are working in the office, then with Grab, create a meal program, and let your people get their favorites delivered right to the door;
• Ride-hailing. Unlock the power to book cars, taxis, or even thrilling motorbike rides. Say goodbye to transportation worries and hello to hassle-free journeys!
• GrabMart. Need to stock up on groceries or essential items? GrabMart is here to save the day! Use your gift card to embark on a virtual shopping spree, exploring a wide range of local stores. From fresh produce to household must-haves, stock your pantry with your Grab gift card;
• Suitable for gifts. It's always a good idea to treat your family, friends, or partners with the Grab gift card for every occasion, from birthdays to anniversaries!
• Cheap Grab gift card price.
It's always better with Grab!
Are you craving your favorite meal but too busy to leave the house? A Grab gift card is the perfect solution! With a wide range of restaurants and cuisines to choose from, Grab offers a delicious variety of options for every taste bud. Indulge in your favorite meals, try new dishes, and discover hidden gems in your area – all with a Grab 65 MYR gift card! Whether you're too tired to cook, planning a dinner party, or just exploring new flavors – Grab has a meal for any occasion. From juicy burgers with crunchy fries on the side to mouth-melting chocolate cakes, get comfy, order in, and explore the foodie heaven with Grab 65 MYR gift card cheaper! And if you're running low on groceries or need to get from point A to point B quickly, Grab has you covered as well. Open the app, redeem your Grab gift card, and enjoy Grab's services without any additional hassle!
How to redeem a Grab gift card?
Here is how to redeem your Grab 65 MYR gift card key:
• Launch your Grab App;
• Click on the Gifts Icon at the upper right corner;
• Paste or enter your gift card code;
• Click on Pick your Gift, then proceed with saving the voucher;
• Choose a service and pick a gift breakdown;
• Your Grab Gift voucher will then be stored in the app's My Rewards tab.
Другие детали
Дата выпуска

1 марта 2019 г.

Издатель

Grab

Разработчики

Grab Food