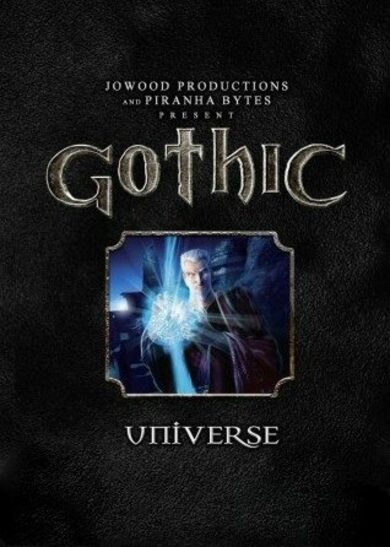 Gothic (Universe Edition) Steam Key GLOBAL
99.87%

de +5k ratings são Excelente!
Pode ser activado: Estados Unidos
Sistemas operativos
6

outra ofertas
What is Gothic (Universe Edition)?
An epic journey awaits for those who buy Gothic (Universe Edition) Steam key! Become the nameless hero of the Myrtana kingdom and witness the Gothic saga unfold throughout the three massive action RPG video games developed by Piranha Bytes and published by THQ Nordic. These titles offer hundreds of hours of gameplay, enticing third-person combat with a variety of possible playstyles, multiple open-world zones, and a non-linear story set in an imaginative medieval fantasy setting.
Gothic 1
Begin your adventure with the first installment in the franchise that introduced the lore-rich world of the Gothic games as well as the multitude of in-game factions that inhabit it. Once you buy Gothic (Universe Edition) Steam key and start playing the very first title, you'll find yourself trapped in an open-world mining colony enclosed within a magic barrier. King of Myrtana has forced the criminals to mine ore in order to make preparations for the incoming war between the humans and the orcs. Prisoners overran the penal colony and divided themselves into opposing groups. Pick your side and fight for freedom!
Gothic II: Gold Edition
You've torn down the magic barrier and freed yourself from the Mine Valley but at what cost? Now the former prisoners roam free across the land and cause havoc outside the capital of Khorinis. King's militia is helpless so it's up to you to bring back order and peace to the kingdom. Buy Gothic (Universe Edition) Steam key and together with Gothic II: Gold Edition you'll also receive the DLC expansion of the game. Night of the Raven DLC introduces a new open-world zone to the game known as Jharkendar – an ancient city teeming with bandit gangs and pirates.
Gothic 3
The Kingdom of Myrtana is once again in a desperate state. By the time of the third installment in the franchise, orcs have finally enslaved mankind and the persisting independent groups of humans stand divided or even choose to collaborate with the enemy! However, it is not the orcs who'll decide the fate of the human race. Buy Gothic (Universe Edition) Steam key and choose to either save the world of Myrtana or doom it for annihilation…
---
Detalhes do jogo
Acima dos 16 anos

Um jogador

Third-person

First-person
---
Gênero
Sistemas operativos:
Idiomas
---
Data de lançamento:
November 6, 2013
---
Sistema operativo:
Requisitos mínimos de sistema
Requisitos de sistema: Windows 2000 / Windows XP 64-Bit / Vista
Processador: 2 GHz - Intel Pentium 4 / AMD
Memória: 1 GB RAM
Placa gráfica: 128 MB VRAM Nvidia GeForce / ATI Radeon
Armazenamento: 15 GB