Final Fantasy XIV: A Realm Reborn 60 Day Game Time Card Other Key UNITED STATES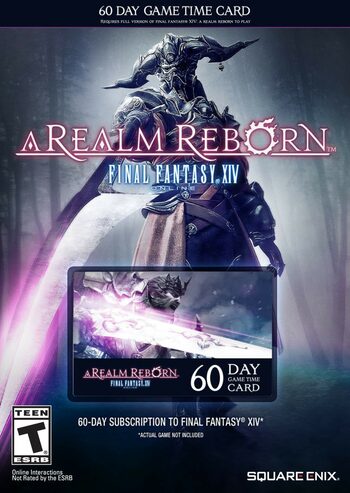 Final Fantasy XIV: A Realm Reborn 60 Day Game Time Card Other Key UNITED STATES
Partilha com alguém que gostaria disto!
Oferta mais barata
Comprar como presente
Recebe o produto na forma de presente PDF.
Disponível no checkout:
Aviso importante:
Requires the base game Final Fantasy XIV: A Realm Reborn on Square Enix in order to play. Only for UNITED STATES accounts.
Os jogadores também viram
Descrição do produto
Final Fantasy XIV: A Realm Reborn 60 Day Game Time Card Key
This is your chance to take up the mantle of Warrior of Light and discover the plot to plunge the world into darkness. Buy FFXIV 60-days time card, traverse across different maps, gather friends and allies, and witness the events that will change the world forever.
Worthy investment
The game has much to offer to its players. From a great variety of leveling related to activities to intricate dungeons to spectacular bosses. Everyone will find something to do. With hours upon hours of content, both story-wise and the general world exploration, there will not be a dull moment to lament over. The game even offers alternatives to people who dislike the grinding, as you can relax in areas assigned specifically to provide a fun distraction from the questing and bossing. Buy FFXIV 60-days time card and experience the game in the way that is most comfortable for you.
Your character is yours
Once you make yourself a character, there's no need to go through the process again. FFXIV allows the player to switch classes as will, meaning your one Warrior of Light might end up with 3 or 4 different jobs, and no one will make a big deal about it. Or you may create a new character for each class – it all depends on you, as the time card is not different from a subscription in terms of accessibility. Once you buy FFXIV 60-days time card, you will have a number of character slots available for us, with no restrictions whatsoever.
Time well spent
Whether you just want to try out the game and see what it's about, or if want to shrug off the chain of subscription, the time card will let you experience the game to the fullest. Decide on your path within the realm and follow it, with no hidden agendas. Work with other players to conquer great beasts and win the best possible gear. Change your look with the glamour system and always be in fashion! Buy FFXIV 60-days time card and you have the time to pester that one particular boss till it gives you the mount you desire. You can even participate in open-world hunts – but be prepared, those are wild. Content is limitless and it all depends on your preference.
Outros detalhes
Data de lançamento

27 de agosto de 2013

Publisher

Square Enix

Developers

Square Enix

Sistemas operativos