Far Cry 3: Blood Dragon Uplay Key GLOBAL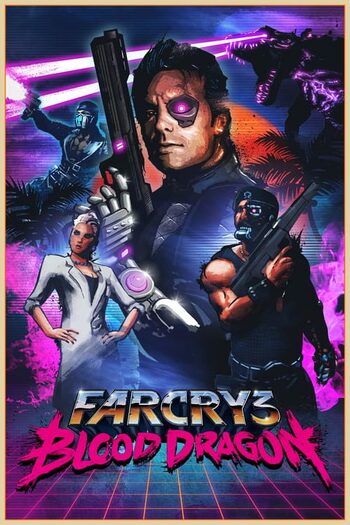 Far Cry 3: Blood Dragon Uplay Key GLOBAL
Jednoosobowe

Pierwsza osoba
Cały światMoże być aktywowany w

Stany Zjednoczone Ameryki

Klucz cyfrowy

To jest cyfrowa wersja produktu (CD-KEY)

Natychmiastowa dostawa
Gracze oglądali również
Opinie: 4
Francisxen

10.09.2020

Przetłumaczone automatycznie

Niesamowite DLC z imponującą rozgrywką i ścieżką dźwiękową, szczególnie polecane miłośnikom szalonych fpsów.

Psychot1kA

17.10.2021

Przetłumaczone automatycznie

Świetna gra, jeśli kochasz estetykę lat 80. i rozgrywkę w stylu Far Cry, polegającą na przejmowaniu posterunków i ukrywaniu się. Świetna gra ogólnie,

B_Huerta

28.05.2021

Przetłumaczone automatycznie

Najlepsze z Far Cry 3. Fabuła jest słaba, jednak rozgrywka i strzelanina pozostają takie same. Jest niewiele broni, ale ich personalizacja przypomina podnoszenie poziomów w grze RPG,

Lovryn

14.02.2022

Przetłumaczone automatycznie

Najlepszy opis skrótu DLC. Ten sam silnik, co Far Cry 3, zupełnie inna gra. Świetna historia, świetna realizacja parodii filmów science fiction Ubisoft z lat 80.
Może ci się również spodobać
Opis produktu
Far Cry 3: Blood Dragon Uplay key
If you want to experience one of the best DLC expansions of all time, arguably even surpassing the base game, then you should most definitely buy Far Cry 3: Blood Dragon key. This stand-alone expansion to Ubisoft's open-world FPS set in the jungle entices you at the very first two seconds of the game which also serves as a self-contained story and Far Cry 3: Blood Dragon doesn't require to own the base Far Cry 3. The game is also a nostalgic parody of 1980s pop culture, action films, cliches common to the movies of that decade and it features an absolutely awesome techno soundtrack by Power Glove.
Welcome to the distant future! The year is… 2007
If you want to see one of the best examples of retrofuturism in gaming, you need to buy Far Cry 3: Blood Dragon key. The setting of the game is based on the 1980s vision of the future. Prepare for some good old Cold War paranoia! It is the distant future of the year 2007. Nuclear war has turned the planet Earth into a war-torn wasteland. A rogue cyborg named Sloan is lead his Omega Force soldiers on his quest to end what's left of humanity but only a true American hero can stop him. His name is Rex Power Colt – standard-issue U.S. military Mark IV Cyber Commando! (who's voiced by 1980s action star Michael Biehn).
Take back garrisons from the Omega Force
Once you buy Far Cry 3: Blood Dragon key you'll discover that most of the mechanics from the base Far Cry 3 are still present in this DLC. You'll do takedowns, tag enemies with your Terminator-style cyber eye, explore a dark but stylish open-world tropical island and liberate garrisons from the Omega Force. As Rex Power Colt, you'll be aided by an army of nerds and a double-agent Sloan's assistant – Dr. Darling. You'll use vehicles to get around between missions and occupied garrisons. Buy Far Cry 3: Blood Dragon key to also use insanely over-powered weapons like Robocop's pistol or sniper rifle with explosive rounds – homages to sci-fi action films from the 1980s.
The Blood Dragons
The title of this DLC refers to freaks of nature for which the game's island serves as a natural habitat. Blood Dragons are giant lizards with the whole minigun's mag worth of HP and ability to shoot laser beams out of their eyes. Encounters with them can get messy but if you'll lure them into an enemy base, you can expect an easy victory. So buy Far Cry 3: Blood Dragon key and get to enjoy a game from a simpler era, an FPS joy ride that gives a breath of fresh air by not taking itself too seriously. It's one of the best gaming experiences of the decade and an absolute must-own considering its price.
Wymagania systemowe
Minimalne wymagania systemowe
Wymagania systemowe

Windows® XP (SP3) / Windows Vista® (SP2) / Windows® 7 (SP1) / Windows® 8

Procesor

2.66 GHz Intel® Core™2 Duo E6700 or 3.00 GHz AMD Athlon™ 64 X2 6000+

Pamięć

2 GB

Grafika

512 MB DirectX® 9.0c–compliant

Miejsce na dysku

3 GB
Zalecane wymagania systemowe
Wymagania systemowe

Windows® XP (SP3) / Windows Vista® (SP2) / Windows® 7 (SP1) / Windows® 8

Procesor

2.93 GHz Intel® Core™ i3-530 or 3.10 GHz AMD Phenom™ II X2 550

Pamięć

4 GB

Grafika

1024 MB DirectX 11–complaint

Miejsce na dysku

3 GB
Pozostałe szczegóły
Języki

Angielski

Francuski

Niemiecki

Włoski

hiszpański, kastylijski

portugalski

Data wydania

1 maja 2013

Wydawca

Ubisoft

Deweloperzy

Ubisoft Studios

Działa na