Longhorn Steakhouse gift card deals
Typ:

eKarty

Platforma:

Longhorn Steakhouse

Region:

Stany Zjednoczone

Region:

Cały świat

Region:

Ameryka Północna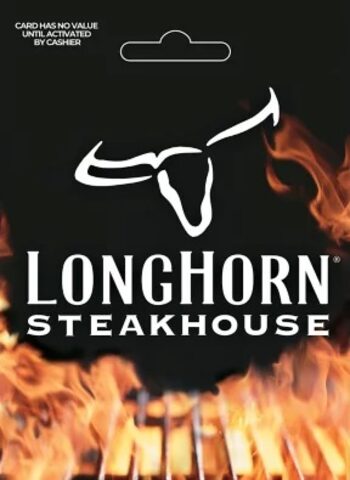 Longhorn Steakhouse Gift Card 10 USD Key UNITED STATES
Stany Zjednoczone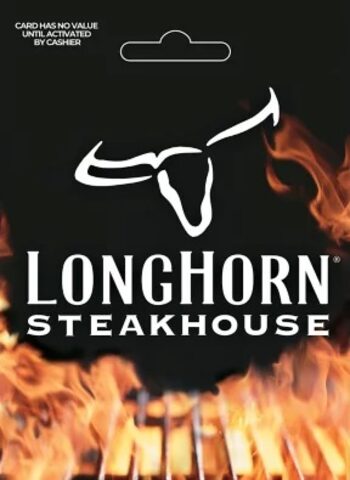 Longhorn Steakhouse Gift Card 100 USD Key UNITED STATES
Stany Zjednoczone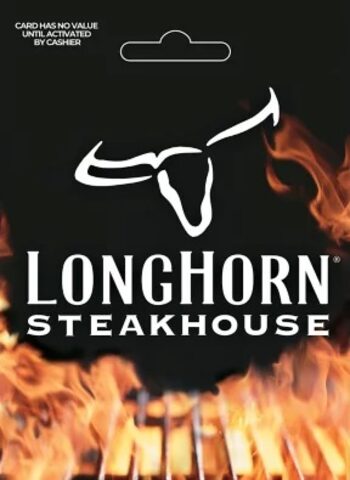 Longhorn Steakhouse Gift Card 50 USD Key UNITED STATES
Stany Zjednoczone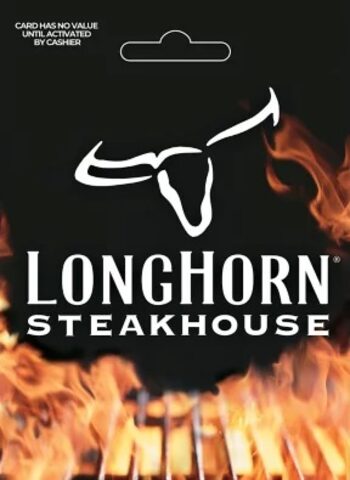 Longhorn Steakhouse Gift Card 20 USD Key UNITED STATES
Stany Zjednoczone
Embark on a gastronomic adventure with Longhorn Steakhouse gift cards and elevate your dining experience to new heights. Indulge in the finest cuisine prepared by skilled chefs, from sumptuous starters to mouthwatering main courses and delectable desserts, promising a journey of exquisite flavors. Whether you're looking for a new place to eat or love the Longhorn Steakhouse's menu, their gift card is the perfect way to indulge in the best dishes Longhorn Steakhouse has to offer. Gather your friends, family, and loved ones, discover new tastes, and celebrate every meal with Longhorn Steakhouse gift cards.
What are Longhorn Steakhouse gift cards?
Longhorn Steakhouse gift cards are prepaid cards or vouchers that can be used as payment at Longhorn Steakhouse locations. They can be used as gifts for friends, family, or colleagues, allowing them to enjoy a meal at the restaurant without paying for it directly. These gift cards come with a specific monetary value pre-loaded on them, which can be redeemed towards the total bill at the restaurant. They are an excellent choice for special occasions and can be a thoughtful gift to show appreciation or simply surprise someone on any given day.
What can I use the Longhorn Steakhouse gift card for?
Enjoy a dining experience full of flavor and unforgettable memories with a Longhorn Steakhouse gift card: Here's what you can use your gift card for:
Delicious entrees. Satisfy your cravings with mouth-watering entrees cooked to perfection using only the finest ingredients;
Refreshing drinks. Quench your thirst with classic cocktails, innovative drinks, and a variety of non-alcoholic beverages;
Delectable desserts. Save room for irresistible desserts – the perfect way to end your meal on a sweet note;
Special occasion celebrations. Make your special day unforgettable with a celebratory atmosphere and an exceptional dining experience;
Romantic dinners for two or fun nights out with friends. Create unforgettable memories with your loved ones in a welcoming and inviting atmosphere;
Lunch or brunch with family or colleagues. Take a break from the everyday routine and enjoy a delicious meal with your loved ones or colleagues;
A perfect gift for foodies. Gift an unforgettable dining experience to your friends and loved ones;
Cheap Longhorn Steakhouse gift card price.
Why choose Longhorn Steakhouse gift cards?
In a world where experiences matter more than possessions, Longhorn Steakhouse gift cards go beyond material objects. They offer the gift of delightful memories, cherished moments, and shared laughter around the dining table. Explore your culinary passions, discover new flavors, and create lasting connections over delicious meals. Whether you're a seasoned foodie looking to indulge in gastronomic wonders, a curious soul eager to try diverse cuisines, or just on a usual visit for your favorite meal, Longhorn Steakhouse gift certificates promise an unforgettable journey of tastes and aromas!
Is a Longhorn Steakhouse gift card a good gift?
Yes, a Longhorn Steakhouse gift card is an excellent choice and the ultimate way to show you care. Versatile and thoughtful, it lets your loved ones choose from many dining options that match their unique tastes. Whether they're craving a romantic dinner for two, an exciting family gathering, or a solo foodie exploration, this gift opens the door to unforgettable moments and cherished memories. With ease of use and a world of culinary possibilities at their fingertips, every meal becomes a celebration. Don't miss the chance to give the gift of joy, laughter, and scrumptious flavors – a Longhorn Steakhouse gift card is the ticket to a world of culinary delights!
How to redeem Longhorn Steakhouse gift cards?
To redeem your Longhorn Steakhouse card code is easy, just follow these steps:
Mobile/Desktop:
Select Pay Online during checkout for to-go online orders;
During payment, choose Pay with Gift Card;
Enter the code for your gift card;
Select Apply Payment.
In-app:
Open the LongHorn Steakhouse App and select Order To Go;
During checkout, tap Add Gift Card;
Enter your gift card code and tap Add.
You can also show your Longhorn Steakhouse gift card to the server when paying in the restaurant.