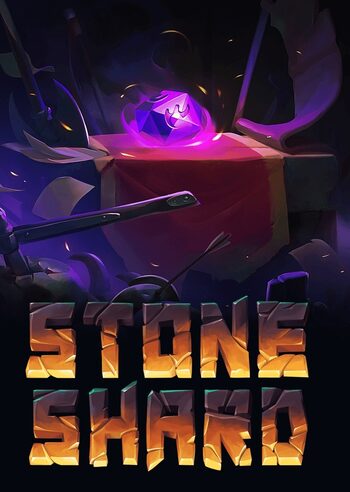 Stoneshard Steam Key GLOBAL
99.86%

z 850k+ ocen są doskonałe!
Najtaniej
Cały światMoże być aktywowany w

Stany Zjednoczone Ameryki

Klucz cyfrowy

To jest cyfrowa wersja produktu (CD-KEY)

Natychmiastowa dostawa
Stoneshard key
From Ink Stains Games, the people who brought you the unique 12 Is Better Than 6, comes a new addition to the tried and true genre of turn-based RPG. Buy Stoneshard Steam key, step into the shoes of an unremarkable mercenary and build your future from the scraps you have been given.
While the game's setting won't astound with its innovation – a medieval kingdom is plagued by the darkness and unrest – the game mechanics will surely leave an impression. As you try to conquer the land, the land attempts to beat you back. Procedurally generated forests and plains are yours to explore, but there are illnesses lurking just around the corner; that's something you will have to keep an eye out for.
Find followers
Add injuries and psychological state to the mix and you have the whole plethora or problems to deal with. Buy Stoneshard Steam key and see how you would solve potential disputes among the companions and unrelenting physiological threats since it takes great skill to manage it all. Speaking of companions, one of the more prominent features in the game is the ability to create a caravan – a group or likeminded (or not so much) characters who will travel and fight together. After all, there's safety in numbers!
Death is unavoidable
Many players fear the big bad reaper, but Stoneshard takes it to another direction. Death is an important part of the game; you don't have to accept the developers' word, simply buy Stoneshard Steam key and see for yourself. Even when one character dies, another will fill in the void; the caravan moves on and the player is left with a nostalgic feeling – something was lost, but new things were also gained.
The character is yours
The freedom to experiment and find your own style has become popular over the years, and the trend is here to stay, rooted deep within the RPG genre. Stoneshard is no exception to it. The main character is customizable: from the weapon choice to the skillset to the choices in the story. All is yours to experience in whichever way you want to. Buy Stoneshard Steam key, pick your (likely first of many) characters and venture forth – Aldor awaits!
---
Szczegóły gry
Single player

Bird-view
---
Gatunek:
Działa na:
Języki:
Angielski
Francuski
Niemiecki
Portuguese - Brazil
Rosyjski
chiński
hiszpański, kastylijski
japoński
koreański
---
Data wydania:
7 listopada 2019
Deweloperzy
Ink Stains Games
---
Wymagania systemowe:
Minimalne wymagania systemowe
Wymagania systemowe: Windows 7/8/10
Procesor: Intel Core 2 Duo E6320
Pamięć: 2 GB RAM
Grafika: GeForce 7600 512 Mb
Miejsce na dysku: 500 MB
Zalecane wymagania systemowe
Wymagania systemowe: Windows 7/8/10
Procesor: Intel Core 2 Duo E6320
Pamięć: 2 GB RAM
Grafika: GeForce 7600 512 Mb
Miejsce na dysku: 500 MB